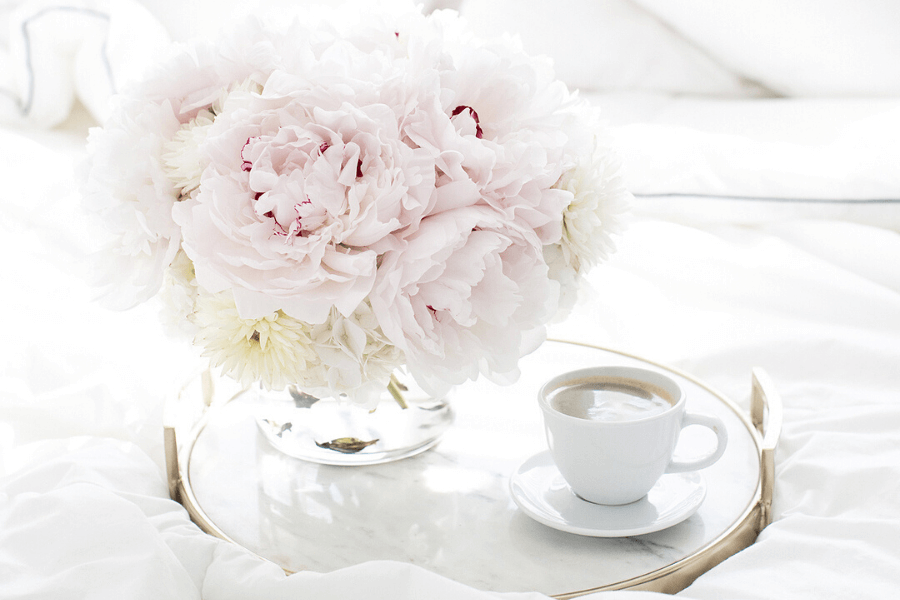 Last Updated on August 11, 2020 by Ade Aprilia
This post may contain affiliate links. If you make a purchase, I'll receive a commission. Win-win. Disclosure
---
Taking a break with ease to connect with yourself? Really?
Three years ago, if you had told me that I would be a better person by taking a break with ease, I would have rolled my eyes.
I also probably would have remarked that the only thing I would become a better person was by taking action to get my goals.
I would stressed out that I deserved to take my vacation every three months and had the lifestyle I lived because I was doing my homework and working real hard. D'uh.
It was a mistake, of course.
Who would've thought, I went through a particularly challenging time in my life. I was going through the most major break-up of my life and could only feel pain and confusion. I had spent my days intently focused at work, but my mind wandered and I couldn't hold back tears.
That event forced me to take a break.
---
---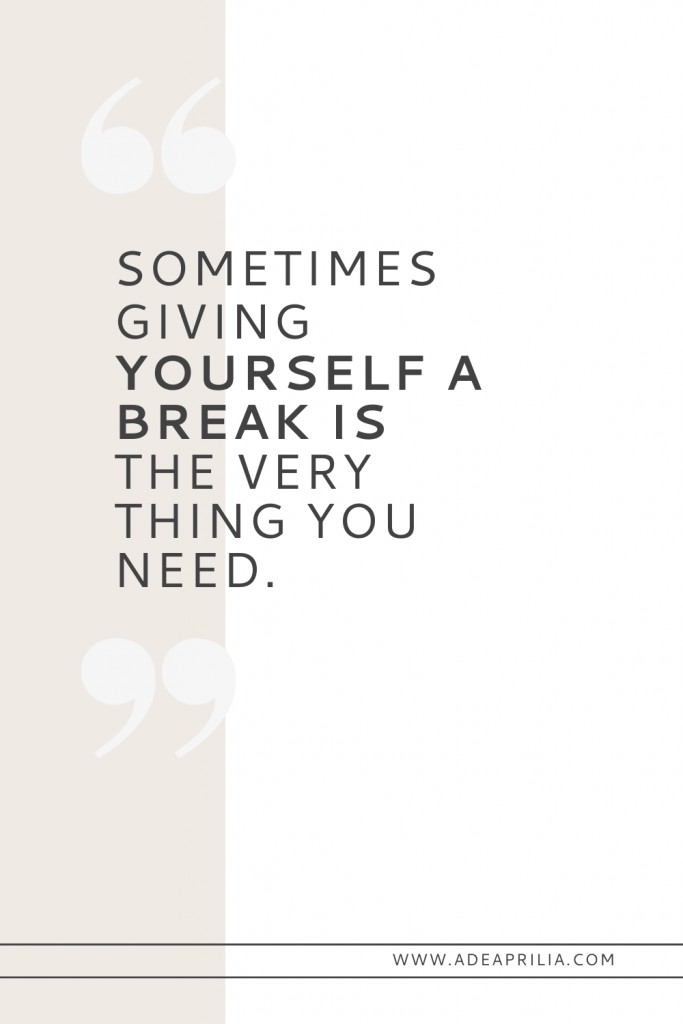 ---
When you have a setback at work and life, treat yourself with kindness.
Emotional health is as important as taking care of your physical body.
Sometimes pushing yourself can feel smart and productive. . .
. . .until you're exhausted, overextended, overwhelmed, and ready to snap.
And when that happens, it's an opportunity to allow yourself to take a break and connect with yourself.
Being happy comes instantly when you just stop and allow yourself to be. This is how you can clear out mental clutter and reduce stress.
---
It was tragic if I didn't write every day…
I admit I used to have a serious productivity addiction.
Late at night was the most dangerous time. I'd get all the ideas for my books that seemed better in the dark when I was hopped up on my second bowl of Haagen Dazs Mint Chip.
I'd keep continuing writing for I kept getting ideas—sometimes I didn't sleep for 4 days.
I didn't feel sorry. 3 minutes was up so fast! Don't mention 4 days!
I was able to write 30 books in a year. I felt content.
This was back in 2006 to 2014. My business was young. I was young, successful, and bored. Ha!
I now realize that why at that time, I thought that taking a break with ease from life was full of BS because I was actually running away from life already by working so hard.
The main lesson? I was a slave to the mind. And this style of working is unsustainable. It hurt me and my relationships.
I just didn't know it—yet.
---
I discovered taking a break to be the tool for loving myself
When nothing seemed to help, I was forced to look within.
I stopped writing.
I stopped talking to friends and telling my story about that event.
It was nice to have listeners, but there was no concrete solution.
I decided to explore the journey within.
I started to letting go and allow myself to just be.
10 minutes was long.
But I did it anyway. I did it 24/7. I was persistent.
That was how I got better and got rid of all garbage.
I guess letting go is a "practice."
Results?
That was one of the most compelling breakthroughs I experienced.
I understand now when I simply stop in this moment, the presence awareness that I am would be more self-obvious to itself.
Every time I stop. . .
. . .that opens the field of infinite happiness, peace, and joy that is already right here and now.
---
Why taking a break can clear out mental clutter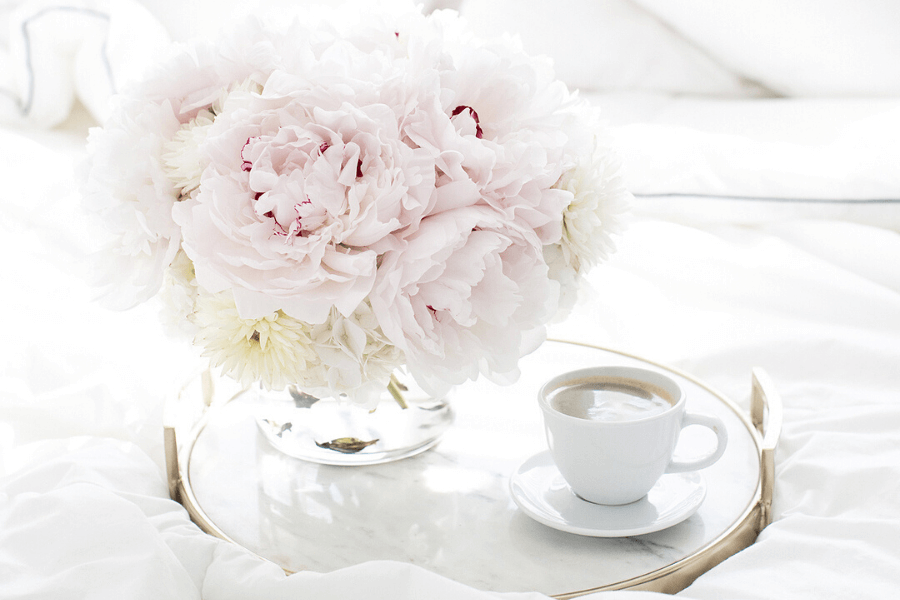 When you're taking a break with ease, you create space. You're allowing things to be, just as they are.
When you let go of judgment and expectation, it gives you room to breathe. It allows you to welcome clarity.
And the more you surrender to that, you may find things start to get better.
Many of us are struggling with how to take a break with ease, especially with work. We live in a world that believes that it's always necessary to take action, rushing through this moment in order to get to the next.
We are busy seeking, striving, pushing, pulling, trying to fix or change, or just looking away from the truth of what we are.
Accidentally, we hurt ourselves and the best relationships we have.
What have we done to ourselves?
But don't fret. It's easy to fix that.
---
How to take a break with ease
One of the simplest and most direct ways of interrupting this pattern is to simply stop.
That's right—just stop.
Taking a break, a pause, a stop, is an option for us to step back, get in touch with ourselves, and remind us what our passion is.
Part of my mission in my business is to have the life that I love.
It means to make more space for living real life.
I enjoy simplicity, but I had a very active mind filled with creative ideas. And they didn't always serve my business well. So, as much as I love to live in peace, there was too much going on.
In that sense, I have assessed what was and wasn't working for me.
I had decided to take a break from some businesses for a year to simplify things in my business a little bit. It's all part of a significant move to grow my business.
As a result, I had to consciously look at things that I was doing—yes, things that I had added with excitement and expectations. . .
. . .and then let them go because they don't serve me anymore to move forward.
---
With breakdowns comes clarity
While I was distant and trying to figure myself out, the only thing I was still doing is helping and coaching people into releasing. It is something that I can get really motivated by; excited about; and inspired by.
My teacher, Lester Levenson, used to say:
---
---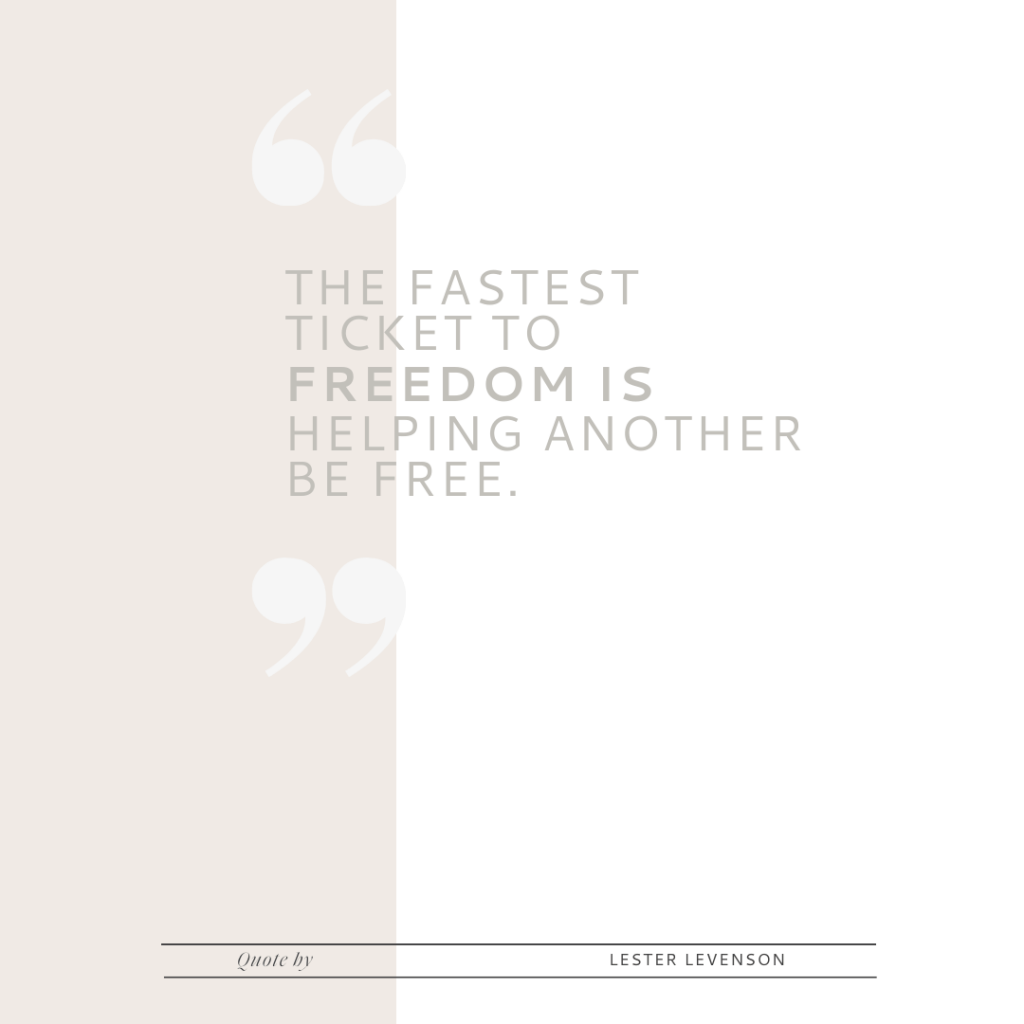 ---
As I help others release, I release too, automatically, on a very deep level, without my conscious mind needing to be involved.
That's one of the reasons we in The Sedona Method community release with partners during all of our retreats—it is always very powerful and compelling for both partners.
Now I can say…
I'm so thankful for letting go…, for breaking down, and for being able to be completely transparent with you…
With all of this, it is so much more clear what my purpose is and that my friend, is to help you successfully achieve your heart's desire!
Thomas Fuller says it best:
---
---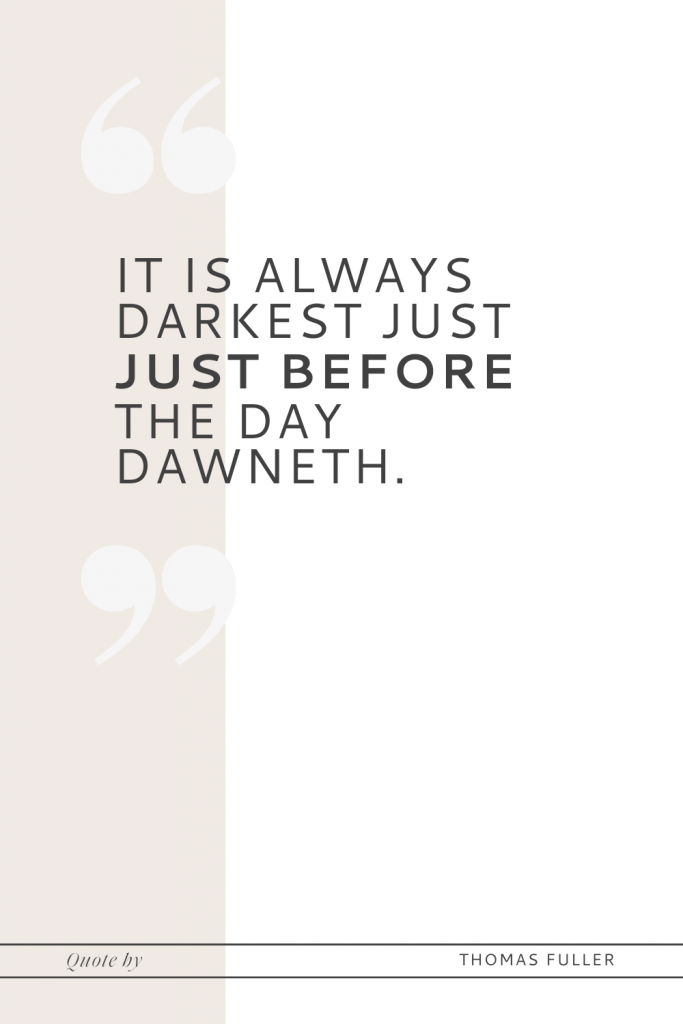 ---
My friend, based on my own experience, when we feel we are not making progress, we can encourage ourselves to take a moment to rest.
We can release and let go more, meditate, surrender to the power that is the way, feed ourselves well, and get extra sleep. And then pull yourself back up and give it another shot.
---
Do you want to create a life that is full of deep peace, joy, and purpose?
Begin with allowing yourself to just stop.
If you're struggling with the noise in your head, consider starting to work with the Letting Go Method.
Letting go is a powerful, unique, and very practical tool that will dramatically improve the quality of your life. It's a part of the healing I've done.
I'm still cocooning a little bit, but I am ready to come back to help more people to have the life they want. I feel like I just want to dive into more creative projects.
If your life feels overwhelmed, ask yourself:
Is this heavy or light?
Am I having fun doing this, or am I just doing it to have approval from someone else?
Do I sense a feeling of false security by doing this?
---
If you're ready to create a life that you love, here are the next steps I recommend:

Grab The Moving From Pain to Peace Audio Guide which will give you the exercises you need to let go of issues packed with emotional complexity. . .
. . .and create a solid foundation to change your life.
---
You can also level-up and work with me 1-1 to create the life you love.
We'll release your biggest fear that is holding you back and support your transformation.
We will focus on clearing some of your own core holdbacks. . .
. . .and freeing yourself to achieve even your most ambitious goals.
It is my gift to you.
BOOK COMPLIMENTARY BREAKTHROUGH SESSION NOW
---
Now you.
For now, if you're hurting and healing, connect with yourself by taking a break with ease. Be easy on yourself and love yourself.
If you have questions, hit me up in comments!
---
PIN THIS!
Did you find this post useful, inspiring? Save this pin to your board on Pinterest. That way, you'll always have this info on hand!