"I'm able to move from anger to love!"
"If you want to change your anger become love and releasing unwanted emotions, Ade Aprilia is the best healing coach that you can go. After releasing with her, I'm able to allow love to guide me to solve my problem from the place of Love, not from the place of anger!"
Ary – Melbourne (Australia), Jakarta (Indonesia)
---
"Lia, with her patience, guided me to the method and helped me to release the issues that have been stuck in me."
"Lia introduced me to Sedona Method back in 2015 where I was mentally breakdown due to family issues. Now I feel lighter, happier, and more creative. I enjoy the present moment and I would recommend Lia as a professional releasing facilitator/guru. A massive THANK YOU to her. Without her, I could have been ended up with a high level of depression and mental illness."
Nura – Sidney (Australia), Jakarta (Indonesia)
---
"Adelia makes me understand to make my wants want me!"
"I remember the first time I met Adelia, my life collapsed because of a girl. Now I live a happy life and I understand to not chasing, not begging, not stressing or being desperate, and just relax into Being. Adelia, you changed my life… Love to you."
Riki – Jakarta (Indonesia)
---
"Adelia is really A Star. I'm so grateful for her. Thank you so much, Adelia…
"Adelia helps me letting all of this unconscious stuff go. At the beginning of the morning, I just felt so heavy and crappy and my mind tried to convince me to abandon releasing with her and go to sleep instead. Before this session, I felt like I wanted things so bad. In comparison to this state of Being I just experienced, it's like begging for dirt to eat, when you can have the full table! After releasing, I just feel so loving and happy right now. The loving feeling was just as intense as I experienced on the LIVE Sedona Method workshop in London. Incredible…."
Henrik  – Aarhus (Denmark)
---
"My heart is now open and I got to know my soul."
"Adelia is really an excellent Sedona Method Facilitator and she is very professional. I am so grateful to be able to release many limitations with her. I know that things are now possible for me and it's starting to become my living experience! Thank you, Adelia."
Adelinah – Jakarta (Indonesia)
---
"After I met Ms. Lia with the Sedona Method, all of my diseases were gone."*
"I feel grateful and lucky to have found the Sedona Method and be able to practice the method through Ms. Lia's assistance. This is a wonderful method because with this method, I am now free from many limitations and diseases and I feel fit—same as when I was a young student.
Previously, for more than 10 years, I had the following problems such as fatigue syndrome, food intolerance (wheat, garlic, sugar, milk, etc.), DOMS (Delay Onset Muscle Soreness)—it means that the day after I did some workout, even the light one, my body was in pain in many areas for at least 2 days and I had brain fog too. It's got serious consequences for my career and affected my self-esteem. I already sought assistance from many doctors and specialists in Indonesia and abroad. I also already tried many food supplements and non-medical therapy like yoga, tai-chi, meditation, etc. But it's not enough to help me."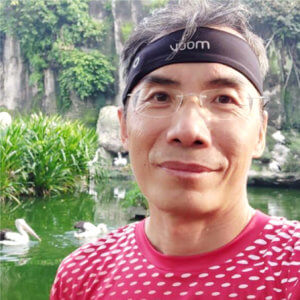 "Finally, after I met Ms. Lia with her approach in the Sedona Method, all of these diseases were gone! Now I can swim and run several times a week, I have higher self-esteem, and I feel it's easier to build a better relationship with everyone."
Sugeng – Jakarta (Indonesia)
*Coaching and the Sedona Method do not diagnose, cure or treat disease and are not substitutes for competent medical or psychological care. Always consult a qualified medical professional for health concerns.
---
"My heart is more open and I feel more calm."
"I'm the type of person that get anxious easily and I couldn't express my feelings. These traits made me depressed because I suppressed almost everything. To help me with this, my mom took me to do releasing coahing with Auntie Lia. At the beginning, I felt so much doubt because I couldn't open up myself to others and some things felt very private. It ended up all went well because releasing works without I needed to tell the stories. After the sessions, my heart feels so open and I become more calm. All the problems are not problems anymore because all went well. I can face everything with ease.
Kila –  BSD (Indonesia)
---
"I just laugh, laugh, and laugh with Adelia."
"I loved the work Adelia did for me. Every time Adelia helps me, I laugh within seconds. I love how she helps me. She brings joy in the second I get on a session with her. I feel so happy. I laugh right away. It is like nothing matters. I feel so happy and so good.
I had a headache today and Adelia helped me so that my headache did not bother me anymore at all within seconds. I love when Adelia does a session for me, as I feel so happy, so good and it is like I can take on the world with a whole new vision and light and life is just easy. Thank you so much again today, I so appreciate it. I do not feel my headache anymore. This is the first time that happened that my headache does not bother me anymore, thanks to Adelia.
Thanks once again. I am so very grateful and I would recommend Adelia's service to the entire world. You must have a session with her. She is amazing. Thanks again, Adelia."
Barbara Kurtmann –Certified International Transformational Spiritual and Life Coach; Stress Management Coach and NLP Practitioner; Empath/Animal Communicator
---
"My spiritual journey is going up high."
"My experience after doing the healing with Lia was very amazing. I felt so relax and I could easily let go of my problems with ease. At that point, I began to feel the energy flowing through my body. I felt ligher and I could see light every where in the whole Universe. I could feel my eyes were wet even though I didn't cry. I just felt peace and I couldn't even express that with words.
A week later, my heart felt open and the peace that I had is still here until now. I am able to stay calm when life has so many problems all at once. I am so grateful for Lia."
Thina – Jakarta (Indonesia)
---
"After the coaching program, I live life with more ease."
"Nobody has a perfect life, everyone has their own problems—I was one of them. I felt I stuck in the past. Unresolved feelings lead to anger issue and affected my relationships and made me felt worse. But after doing some releasing with my healing coach, Lia, I can easily let go of the past and it could be done effortlessly with ease. I feel lighter and my life is easy now. I can meet my target at work on time and mt relationships become better. I live life with more ease now."
Elga – Sijunjung (Indonesia)