Last Updated on March 26, 2020 by Ade Aprilia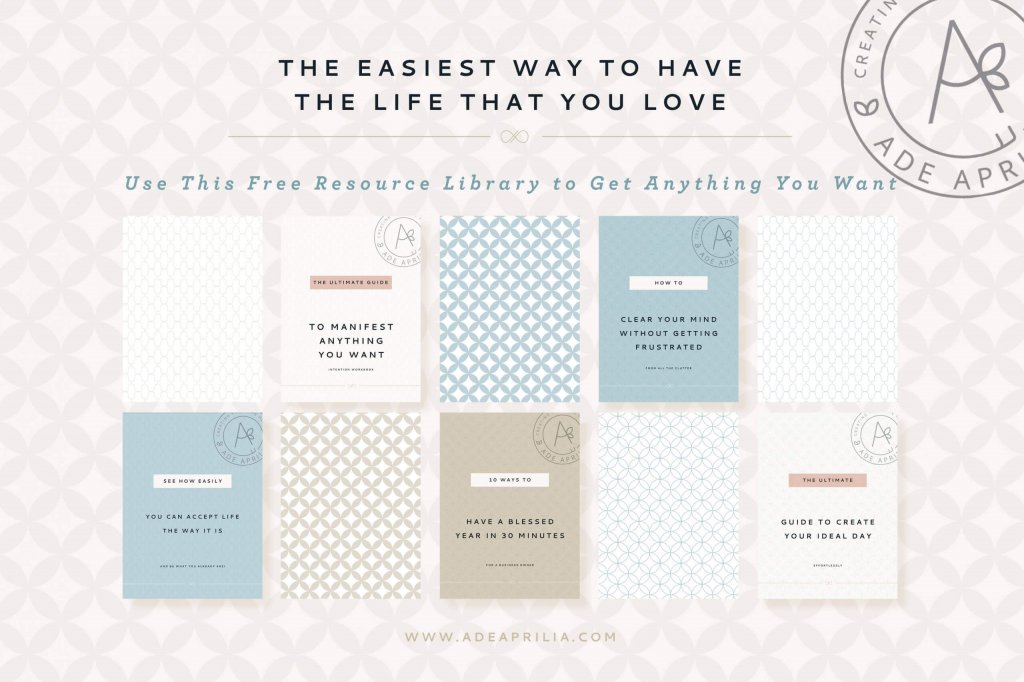 If you're looking for a free resource library to transform your life and business, you're in the right place.
I've always loved sharing the precious knowledge. I feel that I have much to give and share with others!
Here's your access to your free library:
---
---
Why I Created This Library Full of Free Yummies
The conflict that I had the first time I decided to make a free resource library was that it seemed that as I gave of myself, people tend to take more and more.
The mind — of course — freaked out and thought, eventually, if I didn't put a stop to it, they'd bleed me dry emotionally, mentally, financially, and use me as a crutch.
Oh, boy, does it resonate with you?
As I went through this journey and accelerate the power of love, now I understand that it is impossible. What is needed for us is to know what real love is. If we feel the real love, if we have the correct attitude of love, that doesn't happen. The givingness is a attitude. We can always maintain an attitude of love.
Most people who give are not giving lovingly. They are giving because of the recognition they think they'll get for giving: "Look at me; I'm doing good," or "I may get my name in the paper," or something like that.
That kind of love will get us into trouble. People will drain us on that because we're looking for something in return. We're looking to put ourselves up in the process and therefore, they'll pull us down.
The main thing is to know love in the sense that I'm defining it, then no one will ever gonna take you for granted. Those things only happen when we love in the sense that humanity understand the word "love". But I don't call that love. I call it selfishness, actually. Because in love, we don't have to hurt ourselves when we love everyone. — oh, yes, I learned it the hard way.
If we realize that when we love, we're doing things to help ourselves, we don't expect anything in return. Therefore people won't take advantage of you.
Lester Levenson, the man behind the Sedona Method, gave the best example for this. If you're loving, you're applying the most powerful force in the universe.
Soooo….
I decided to offer more content upgrades to my reader. If you're unfamiliar, a Content Upgrade is any sort of download you create for a blog post, which can be accessed in exchange for one's email address. I don't want people to have to subscribe every single time if they want my printable, checklists, and workbooks related to self-improvement, manifesting, and creating the life that they love in PDFs. It feels confusing for every each of us! A free resource library full of valuable content is the answer for this!
---
What's The Advantage of This Free Resource Library For You?
Good question! Signing up to an entire library can be beneficial, at lease for these two reasons.
---
1. Makes it easier to house valuable contents online
If you don't use this method, then you will have to figure out another method to save multiple contents for transforming your life + business!
Imagine free yummies and easy-to-access resources for empowerment + wealth + spirituality in one link. It makes things pretty easy on you.
---
2. It gets you to get excited to transform your life
Have you ever walked into a public library with only two books?
Yeah, I didn't think so.
The same thing goes for this resource library. You want to be inside it because this free resource library is well stocked with checklists, planner, brain dump exercises, empowering quotes, workbooks, and many more valuable contents to support your journey in loving yourself more and have the life you love!
…So, are you excited already? 
Great.
Now, let me show you exactly how I actually bring this to life.
Visit the library now.
---
Alright, my love! I hope this helped you to enjoy more the reason behind the creation of my free resource library. It will help you significantly grow yourself.
---
Now you.
Let me know if you have any questions about my free resource library. I'd love to help you!
---
SAVE THIS!
Did you find this post useful, inspiring? Save whichever pin that resonates with you to your board on Pinterest. That way, you'll always have this info on hand!