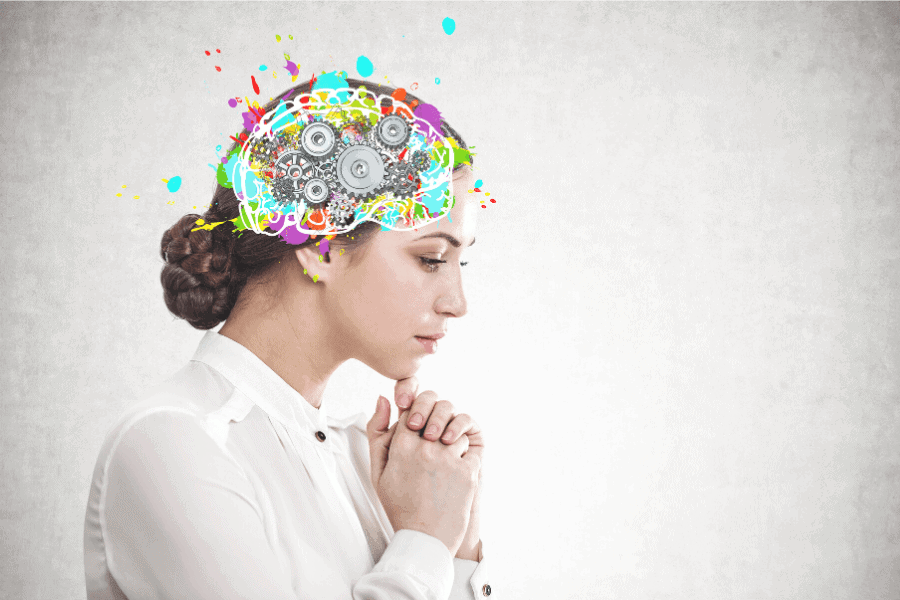 This post may contain affiliate links. If you make a purchase, I'll receive a commission. Disclosure
---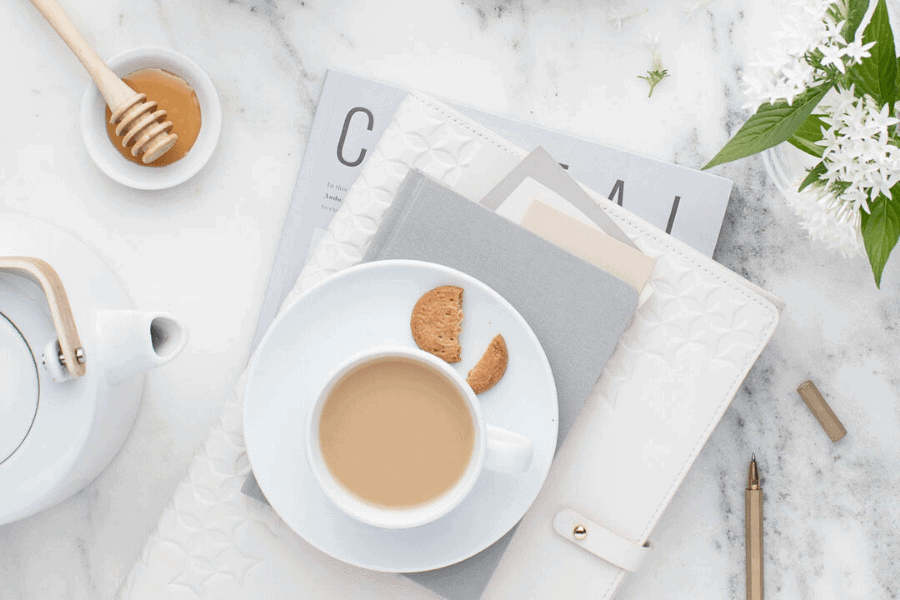 ---
The world keeps changing and for some of us, it can be uncomfortable.
Are you uncomfortable? Good. Change is uncomfortable. But we can always let go of our resistance to that.
---
---
READY TO HEAL YOURSELF?
Check out my free guided audio to get started on how to release emotions painlessly on the spot!

---
Now, more than ever, we all need to heal ourselves, not just the body, but also the brain.
My friends at Learning Strategies would like you to learn – free of charge, of course – NeuroMovement Healing.
Why?
This event is absolutely free, and we would like to share it with as many people as possible especially who could use healing.
Tell me if this at all sounds familiar…
Karen is in her 50s and works a desk job. Her weight's okay, she's reasonably active, but she is "feeling her age."
She's none too happy about it.
Her neck and shoulders are often tight, joints can ache, and overall stiffness can cause her to wince just getting out of her chair.
The days that are really frustrating are when she cannot even reach her shoes to tie her laces.
Know anybody like that? What would your advice be?
Would it be, "Try harder. Stretch! Stretch! Stretch!"?
That was my first thought. But I was wrong.
It's probably not the worst advice you could give her, but that's not the core problem. It is not stretching.
---
It's not the muscle's fault. It's the brain's!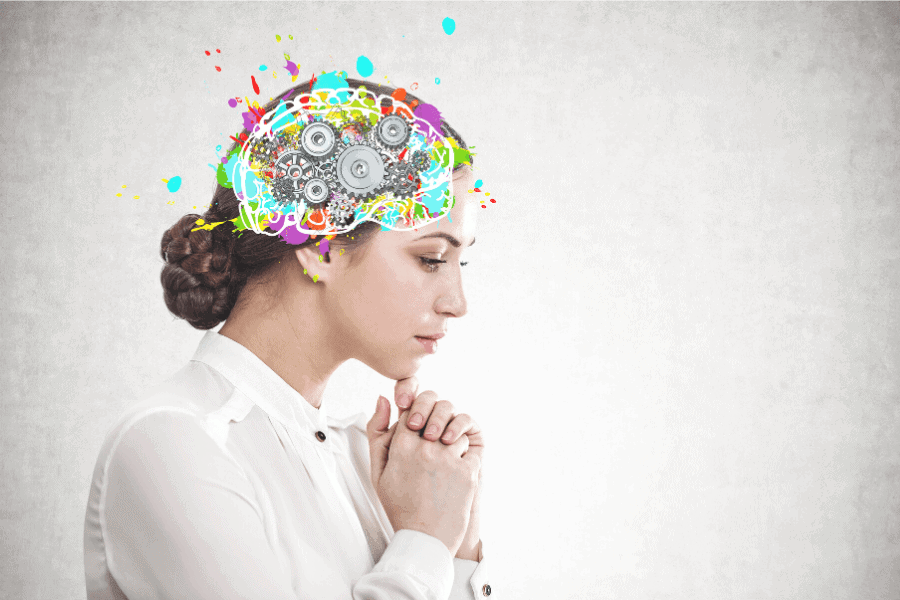 You see, no matter what Karen tries, she's stiff and can't stretch because the problem is not in her muscles (and it's not her age!).
The problem is in her brain.
Her brain has forgotten how to "feel" parts of her body, her back, hips, and certain connections, because of a lifetime of unconscious movement.
The brain just becomes no longer aware of those parts. It cannot successfully direct the muscles to move in certain ways.
Your brain is doing the same thing.
But if you show your brain how to "perceive differences", a miracle can happen.
Your nonconscious mind will begin perceiving in all dimensions, which gets it the information it needs to map the body. It helps evolve your ability to think, feel, and move freely once again…
The human being always works as one system. When you want to improve, you have to address all aspects of yourself and provide the information for the brain to map and organize on an increasingly more complex and skillful level your movement, thinking, feeling, and emotions.
In other words: If you want to improve your ability to tie your own shoelaces (or sit cross-legged), it is important to bring your whole body and the rest of the self into the action to access more fully the remarkable capacities for healing, learning, and growing. We all possess these capacities already! We need to access them.
If you just work at trying to bend over, most likely you'll find your improvement to be limited and you might begin experiencing pain in the process.
You have to do a wide variety of gentle movements that include all the body.
You have to consciously become aware of your entire body and how it feels and moves.
Then, when you have the brain perceiving differences and integrating more parts of yourself, the improvement is fast and transformational.
---
Teach Your Brain How to Create Miracles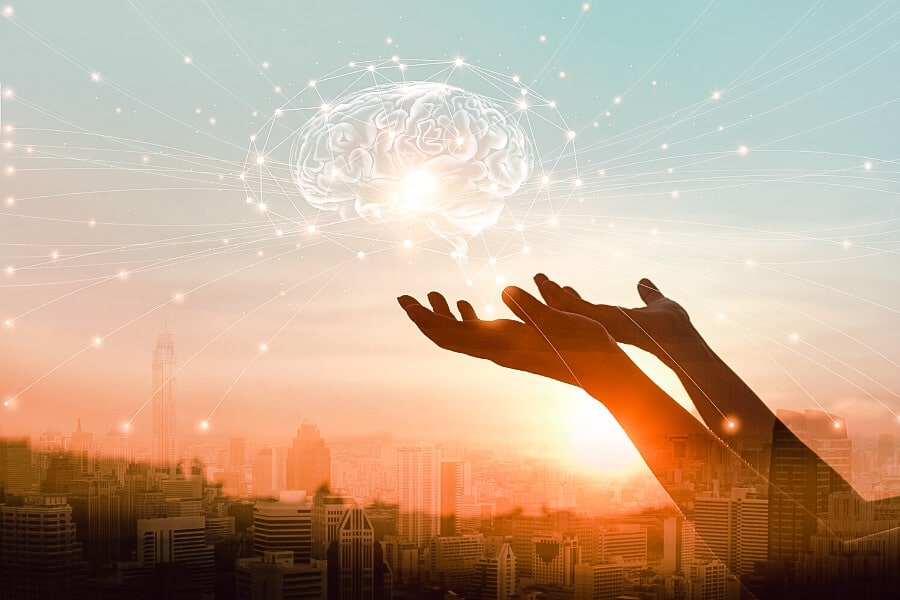 Let us show you simple movements that will immediately give your brain this new ability.
Yes, immediately! You will see superfast results.
And yes, we will show it to you free of charge.
Then, beginning on June 15, Learning Strategies will stream the sessions from Anat Baniel's NeuroMovement for Whole Body Fitness.
My friend, Anat Baniel, will teach you these movements, which is called NeuroMovement.
This improved brain functioning leads to Peak Performance.
Doing the movements leads to growth and improvement of brain functioning.
With this method, you don't try to change behavior, but you help upgrade the functioning of your brain itself to become a more skilled brain.
With a better, stronger brain, positive changes occur in all aspects of your life that otherwise may not be possible.
So, yes, doing these simple movements can help heal traumatic injuries to the aches and pains of daily life to reaching new levels of performance no matter your profession or avocation:
Competitive Athlete. Musician. Corporate Executive. Writer. Artist. Computer Coder. Welder. Race Car Driver.
You can quickly and pleasurably go to heightened levels of performance while inspiring greater creativity and ease in both body and mind.
This improved brain functioning leads to Pain Relief.
If you suffer from chronic pain…
If you have increased aches and pains…
If you are recovering from injury…
You can rapidly help relieve pain from injuries, chronic back pain, neck pain, joint pain, and problems from repetitive movements… returning you to a state of maximum harmony, ease, and pleasure in the body—and higher performance.
This improved brain functioning leads to Joy and Enthusiasm.
Do your days seem like every other day?
Do your dreams no longer matter?
It's easy to get in a rut. By doing these simple movements, you wake up your brain, revitalize your life, begin to recognize possibilities, and have the vitality to explore them.
This means better relationships, increased fitness and well-being, better health, more vitality and vigor, and a new lease on life.
Simply doing these movements with attention that gave me back the ability to sit cross-legged in 20 minutes.
Science now shows that by activating the brain, we can continue to positively evolve and transform physically, mentally, and emotionally to experience a general increase in overall performance, energy, and enthusiasm.
I don't know about you, but I want that…
---
Who's going to teach us NeuroMovement?
---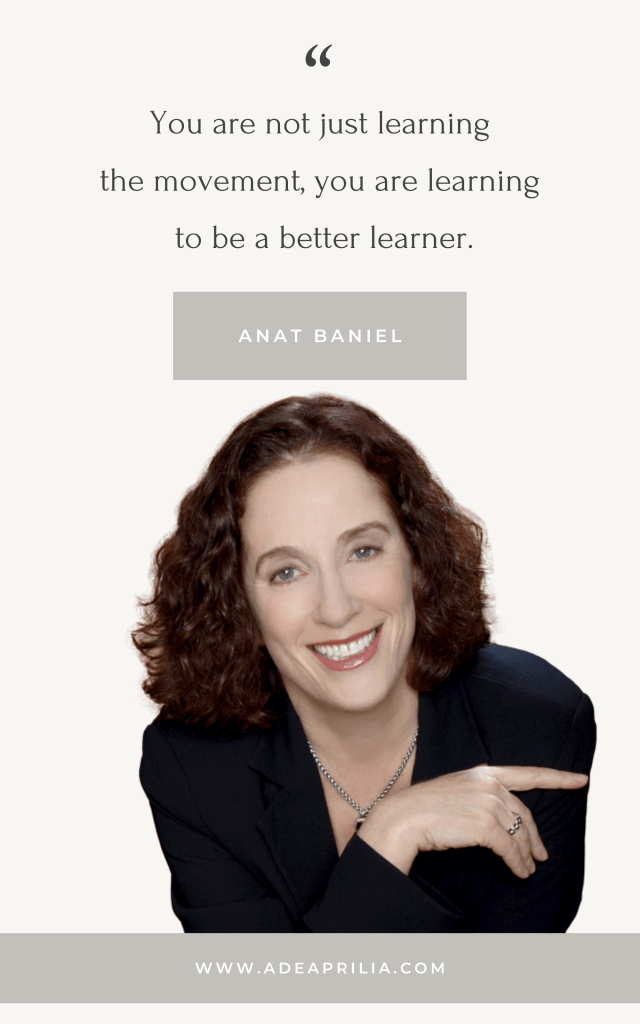 Anat Baniel will teach you how to rapidly help relieve pain from injuries, chronic back pain, neck pain, joint pain, and problems from repetitive movements… returning you to a state of maximum harmony, ease, and pleasure in the body—and higher performance. The technique is called NeuroMovement and is a wide variety of gentle movements that include all the body.
Anat Baniel is the founder of Anat Baniel Method NeuroMovement, a powerful practice that takes advantage of the brain's remarkable ability to change itself to heal body and mind. She studied clinical psychology and statistics, was trained as a dancer and was a close professional associate of Dr. Moshe Feldenkrais.
While still living in Israel, Anat worked with wounded war veterans, helping them recover lost mobility, overcome pain and limitation, and experience enhanced wellbeing.
Over the past 30 years, Anat has helped thousands of people from stroke patients to high-performing athletes overcome pain and reach new heights of performance, both physical and mental. She has seen remarkable outcomes in people with chronic pain, physical injuries, traumatic brain injuries, and limitations due to stroke or aging, as well as in high-performing athletes, musicians, dancers, business people, and others.
Anat's work is at the forefront of the emerging brain plasticity field, helping wake up the brain to its greater potency for learning and change throughout life. Her innovative, scientifically based approach provides concrete and easy-to-use tools—the Nine Essentials—that enable adults (and children) to move beyond their limitations, making the seemingly impossible possible.
Anat is the author of the bestselling book Move Into Life and the acclaimed Kids Beyond Limits. She has trained hundreds of practitioners in this method.
Anat and her team are currently collaborating with neuroscientists and technology experts on developing a neuroscience, neuroplasticity approach to rehabilitation. She and her team work out of the Anat Baniel Method Center in San Rafael, California.
---
NeuroMovement Healingfest
---

---
So, my friend… We are thrilled to make this free opportunity available to you.
Starting on June 15, each day next week, from Monday through Saturday, you will have a video session available in which Anat Baniel will lead you through simple movements that will give your brain the ability to perceive in all dimensions with immediate and noticeable results.
The sessions are On-Demand, which means you can listen to any of them any time you want during the periods they are available.
---
Edited: The event has ended.
---
You will be able to show your brain how to "perceive differences" and successfully direct the muscles to move in certain ways.
---
Now you.
Are you open to show your brain how to "perceive differences" so a miracle can happen?
Let me know in the comment below.
---
SAVE THIS!
Did you find this post useful, inspiring? Save the pin you like to your board on Pinterest and read more later!