If you haven't noticed, I've mentioned the Sedona Method more than a few times in past articles.
(Okay, who are we kidding, you totally noticed).
So it feels like time to write a comprehensive review of it. Here's my direct first-hand experience with the method.
We all want the best that life has to offer. And if you go to The Sedona Method's website, you will see the description that The Sedona Method is a unique, simple, powerful, easy-to-learn and duplicate technique that shows you how to uncover your natural ability to let go of any painful or unwanted feeling in the moment.
The question foremost in anyone's mind who is exploring the Sedona Method is: "Does this program work? Can a series of simple questions you ask yourself effortlessly drop feelings, thoughts, and beliefs that no longer serve you? Will it truly bring me lasting happiness, success, love, peace, and emotional well-being?" The short answer to that question, for me personally, is yes. It really did all that it claims. And no, it's not a scam.
Therefore, please read on to see the details of this review.
WHAT IS THE SEDONA METHOD?
The Sedona Method is a program that teaches you a simple technique to let go any painful feelings and emotions. While simple, the method can be beautiful and very profound. It does not try to make you push away sensation, which is actually a form of suppression or avoidance. By refusing to let the pain do what it needed to do and holding all the garbage in your head about it, you're creating extra tension there.
The Sedona Method shows you that releasing is natural, and if you pay attention, you will notice that most feelings come and go quite easily if you do not repress them or attach to them in some way.  To let go is to just stop holding, it is sort of a non-doing. The only reason a feeling sticks around is that we don't allow it to be felt and then flow out.
The analogy for letting go is dropping a pen. The hand represents your awareness, and the pen represents the feelings. You have to be holding on to a pen for it to stay in your hand. THAT actually requires effort, but if you do it long enough, it feels natural and automatic. And you start to think that the pen is you. And your hand is starting to hurt. The pen is not you. You can simply drop it and let go.
"Misery is complexity. Happiness is simplicity."

– Lester Levenson
The method is a deceptively simple process – one of those things you might say "that's it?" when someone describes it to you. Well, as we all know… There is power in simplicity, though, and it can get you back in touch with a more natural and healthy way to relate to your experience.
HOW TO APPLY THE METHOD
Initially, The Sedona Method focuses on letting go of negative feelings, the ones that cause problems for us in life, like apathy, grief, fear, lust, anger, and pride.
It begins from a place of welcoming, fully accepting whatever you are experiencing. This experiment really opens things up, and we start seeing what is going on at a deeper level.
From this place, we can "let go" of our grip, our grasping, personal agenda, and wanting to control. This practice has a very counterintuitive effect: one of liberation, and usually an increase in clarity, energy, and inspiration.
The Sedona Method consists of a series of questions you ask yourself that lead your awareness to what you are feeling in the moment and gently guide you through the experience of letting go. Those 4 simple questions are:
Could I welcome what I'm feeling?
Could I let this feeling go?
Would I let this feeling go?
When?
It is interesting that these four simple questions could be the catalyst for letting go of painful emotion, but they do work. Since releasing is a natural process, since feelings want to be felt and then flow out of our awareness, the power behind these questions is that they invite you to let this natural process happen. In fact, releasing is less something you do and more something you allow to be done. It is a process more of allowing the emotions to leave than anything else.
WHY EVEN BOTHER WITH "LETTING GO"?
Most of us have the idea that letting go sounds apathetic, or defeated. I used to think that way, too. Surprisingly, that is really not what is at work here. The Sedona Method is definitely one of the simpler yet powerful tools I've come across, and I don't mean this to sound like a commercial. It just happens to be a very significant foundation for me, as it had to do with HOW I process what I experience.
This method applies to, and enhances, just about anything one might be doing in the personal development arena. It is something that can evolve into a way of being more than just a technique.
Almost any physical, psychological, or "spiritual" work brings up a lot of emotion and energy. You know what else does? According to the National Science Foundation, our brains produce as many as 50,000 thoughts per day. Ninety-five percent of these thoughts – including ideas, images, plans, decisions, principles, concepts, insights, perceptions – are repeated daily and reflect the mindset or beliefs we hold that lead to those 50,000 thoughts. Whatever your default setting is for how you process this energy – whether you resist it, get agitated by it, get consumed by it, deny it, and so on, plays an enormous role in both your physical and mental state. Your mindset, in turn, governs your actions, which lead to your decisions in life. In short, if you have a mindset that limits your potential, then you will likely accept limited results in your life.
That was certainly a good enough reason for me to give "letting go" a chance.
BEYOND THE BASIC
Once you've mastered the use of these three questions and have applied them to a few areas of your life, The Sedona Method gets a bit more involved with what it refers to as the wants that underlie all emotions. In its model, we are all being driven by four wants:
Wanting control.
Wanting approval.
Wanting security or safety.
Wanting separation and oneness.
While I initially found this focus on wants to be effective in going deeper with releasing and letting go of more and more difficult emotions, I found after a while that it was way too heavy. Over time, I became aware that all feelings were being driven by all the above. In my experience, at the core always seemed to be some sense of wanting either to separate or to be in control.
Interestingly, too, I began to see how almost every feeling I had could be reduced to anger or fear, and in most cases, anger seemed to be generated by a deep-seated fear. And by seeing that, it has become easier to release any emotion.
WELCOMING AND ALLOWING FEELINGS
"Every feeling wants to leave. It's coming up so it can leave. Just allow them to leave. Welcome all feelings."
In addition to the above, The Sedona Method uses other techniques for releasing. Probably the simplest, easiest to use, and most profound for me, though, was noticing or allowing a feeling. I don't have to do anything. I don't even have to understand how to let go. It is not my job. My job is simply allowing a feeling to come up to awareness. Remember, the basic premise of the Sedona Method is that releasing is natural, that feelings merely want to be felt and then pass through. If you think about it, that is what ultimately happens with any feeling.
I used to make an effort to let go. It had something to do with my tendency to control how things go. But then I found an analogy that helped me to let go naturally. Remember when we used to play ball on the beach when we were kids? I tried so hard to sink it into the water. How did it feel? Heavy? Right. But what happened if we just let go and let it float? It's only air. It is lighter than water, except if we try to do something about that.
So, the process of welcoming a feeling is a conscious decision to feel, a conscious choice to allow what you are feeling to be exactly what it is.
HOLISTIC RELEASING
One of the ways to let go is by holistically embracing both sides of any issue or belief. Holistic Releasing is based on the premise that everything the mind experiences, whether real or imagined, arises in pairs. With this perception of duality, if we have right, we also have wrong. If we have good, we also have bad. If we are love, we have hate. If we have pain, we also have pleasure. If we have happy, we have sad.
If we welcome both sides of any of these pairs, the dualities will actually dissolve each other. And you're left with a greater awareness of the freedom and presence that you are.
THE 5TH WAY
Most of all, I really love to explore with the 5th Way. The 5th Way of releasing is not really a way at all. It is an open, spontaneous inquiry into what is naturally present here and now. From my direct experience, I found this exploration is surprisingly helpful to seeing through of what appears to be here. And that which appears to be here, for most of us, is merely an interpretation, label, or story based on what was. This story includes the assumption that there is actually a "me" and a "you" that is somehow independent and separate from each other. But guess what? Every story is not happening now – either it's about what was, or it's about what might be.
The bottom line of what you are is what is actually here and now. As you recognize this, two things become obvious:
The separate "me," with its story of suffering, is not true.
What is here is simply here. And it is simply the truth of what you are.
WHO CREATED THE SEDONA METHOD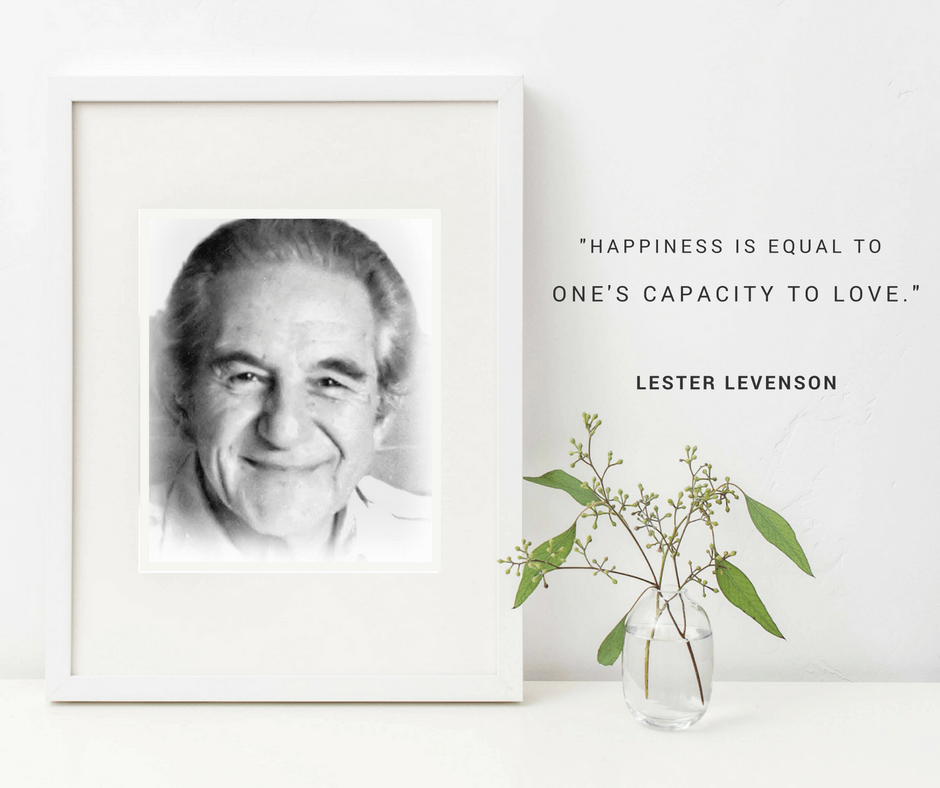 The man who created the Sedona Method, Lester Levenson, was an interesting character. I've heard him described variously as a saint, an enlightened master, a miracle worker, a salesman for freedom, and a shyster businessman from New Jersey. From all that I can gather of the real-life Lester, he was quite likely all of these. One man described him as "a black hole, so egoless that nothing really could attach to him." He sounds like he was quite a character and a remarkable man.
Lester's story is a fascinating one, as it is the story of the awakening of a modern-day spiritual master. You can read more about Lester's life Lester's realization and awakening here.
WHO TEACHES AND DEVELOPS THE SEDONA METHOD
After Lester passed away in 1994, Hale Dwoskin was granted the rights to the name "The Sedona Method" by Lester and who probably is the most well-known of those teaching some version of Lester Levenson's technique. I've looked into most of them, and for me, Hale has proven to be the most interesting, the most helpful and the clearest, both as a person and as a teacher. He walks the talk, and I'm forever grateful for him.
I like Hale and his teaching style. He is a kind man, wise, gentle with most people and sincerely interested in helping them. He is fairly honest and straightforward. I've benefited from all he does tremendously.
You can read Hale's bio here at the Sedona Method website.
HOW I HAVE PERSONALLY BENEFITED
If you go to the website, you can read hundreds of testimonials from people who have benefited from using it. You can also read all the marketing material as well. But one of the most powerful things to me has been hearing how the Sedona Method has benefited people I know.
My very first experience with Sedona Method was interesting, to say the least. I finally allowed myself to fully feel the grief and the anger I used to suppress. All this time, I tried to be a "strong" person, and I didn't allow my feelings to "get in the way" (says my "genius mind" – of course). For the first time, I stopped, and just totally welcomed my feelings. Things started moving…, it was doing its thing. What it naturally knew how to do when the energy was not being blocked by tremendous internal resistance to it.
So, here is how it has helped me:
A permanent end to panic attacks.
Less anxiety by order of magnitude (in other words, a lot!).
End to lack of confidence and gain more clarity.
Little – if any – concern about the future.
Good news: I don't feel the need to be a control freak, especially when it comes to life the way I used to.
I survived painful break-ups that got me into depression.
I never was diagnosed with depression, but I had the experience that I couldn't get up from my bed for two weeks that someone had to feed me in bed. After working with the Sedona Method, I felt a fog lifting from my mind. It was strange like I had been living in a haze for at least a decade. And I never knew it.
I'm a much, much better person these days.
Let go of obsessive-compulsive behaviors.
I am no longer living dramatically.
I made peace with the mind. It cooperates more with me, and I no longer buy any stories that it produces to give me any pain, worries, and anxiety.
I'm much happier to let life happen, to flow with life, to be a part of life rather than always fighting it.
I had chronic vertigo* for a number of years, and I'm free from it now.
I had an experience of bleeding like a regular period for numbers of years. My doctor said at one point that he thought the bleeding would resolve when the anxiety resolved. He was right.
I recovered from non-celiac gluten sensitivity (which many call "gluten intolerance")*.
*Coaching and The Sedona Method do not diagnose, cure or treat disease and do not substitute competent medical or psychological care. Always consult a qualified medical professional for health concerns.
I am delighted by the feeling of aliveness, awareness, and energy in my body.
I finally have a sense of what I'm doing with my life by recognizing the truth of who I am.
And lastly, for all the years I've spent in spirituality, I never really took the idea of spiritual awakening seriously. The releasing that occurred from doing inquiry was tremendous. I dove into inquiry from that point, which leads me to all the wonderful teachings I've explored since then. And "best" of all, it has led to a fuller experience of what I truly am.
In case you can't tell, I like the Sedona Method. I use it in some form with all my coaching clients. The techniques are quite powerful and supportive of you at just about every stage of your spiritual and personal journey.
HOW TO LEARN THE SEDONA METHOD
The best way to learn is to purchase the audio program. The audio program is quite complete, consisting of 20 CDs of recordings of a live class. Hale teaches releasing from the basics to the advanced exercises. Moreover, he applies a lot of the material to the three areas of life that concern most people: money and success, relationships, and health and well-being.
You can also buy the book by following this link to Amazon.com.
Once you've gone through the book or audio program and learned the method, you can head out to Sedona, Arizona, for a 7-day retreat with Hale. I've never been to Sedona but I attended retreats with Hale in Holland and some online courses, plus seminars with Annrika James and Tim McCavitt, The Sedona Method Licensed Instructors, in Singapore and London. I can't say enough good things about them.
In conclusion, if you want to dive into a personal and spiritual development program that is as good, if not better, than anything out there, and lives up to its hype and claims, then go ahead grab the Sedona Method.
HERE'S MY GIFT TO YOU
"There is only one single growth and that is letting go of the ego. The ego thinks and causes all thought. The more we're looking into the mind and releasing, the quieter we become." – Lester Levenson
I have prepared a series of quotes and releasing daily reminders from Lester and Hale to encourage your letting go process throughout the day.
Print out these quotes and put them in beautiful frames  (recommended frame size: 16 x 20 inch).
You could hang them on the wall by your desk, stick on your mirror, OR create a screen saver on your computer to keep them handy, AND use it for iPad wallpaper.
Here is an example of how you can use it:
If you didn't know, this is my favorite daily reminder!
You can also download free guided audio right I have made for you (yes, it's for free!).