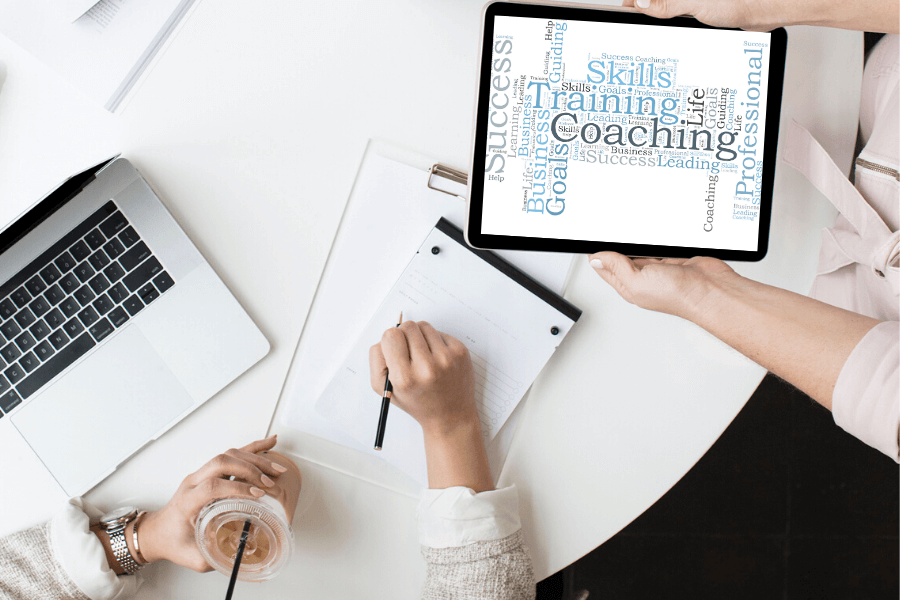 Last Updated on May 1, 2020 by Ade Aprilia
I'm happy to see you here right now, getting ready to set goals, and having the life you love! I'm cheering you with this business and life planner.
Updated: There are no longer dates on the planner. Now you can print it year after year and just simply fill in your own dates.
This bundle includes over 250 pages in PDF for both everyday life and business organization.
---
---
Heart's Deepest Desire Business and Life Planner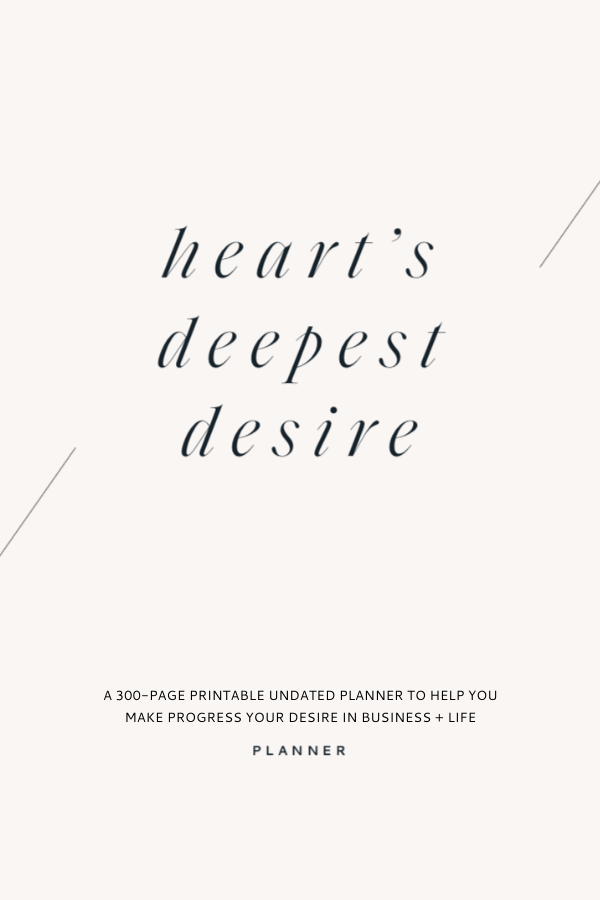 ---
Do the words "goal setting" generate fear and resistance, making it harder to accomplish what you choose for the betterment of your life?
Yes, I feel you. Traditional goal setting doesn't work for me either. It brings heavy emotional baggage along with SHOULD and HAVE TO.
This is why I find it empowering to think of goals as "intentions" or "heart's desire."
For years, I have used The Sedona Method every day to get things done. I shift my relationship to goal setting from my head to my heart. It allows me to look within my heart for what I desire, connect me to something far below the surface, and invite my head to design the actions to manifest my dreams.
---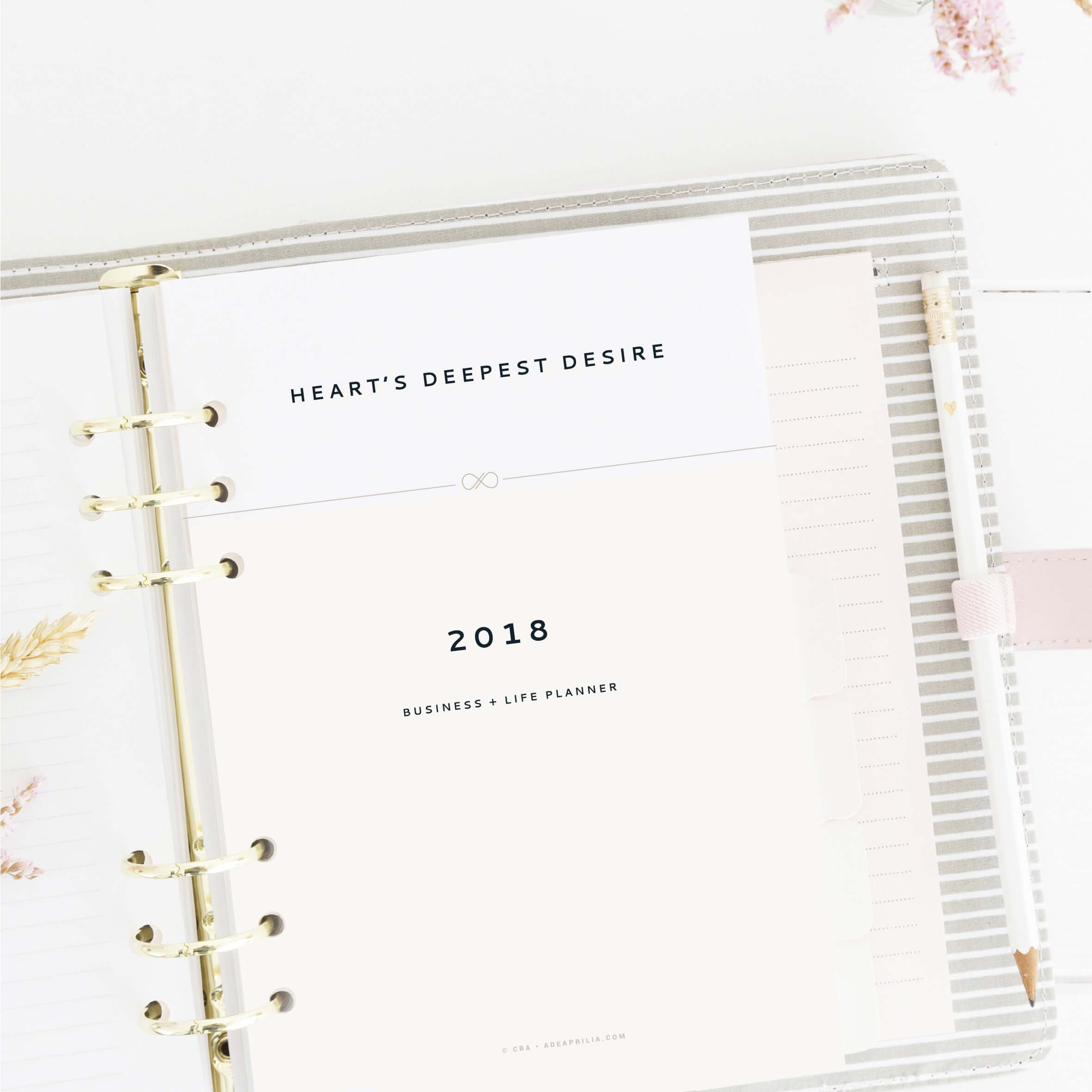 ---
I developed this planner to help you uncover your heart's deepest desire and accomplish whatever it is you set out to be, do, and have – beyond your shoulds.
Because…., did you know that studies of groups of successful, goal-oriented people have shown that people who write down their goals are approximately 80% more likely to achieve them than people who just think about them?
But instead of just write them down, I will guide you on how to release the emotional challenges you're experiencing to move forward with your desire – totally worth it.
This "Heart's Deepest Desire Business+Life Planner" will keep you on track to doing what you love on a path to success. You don't have to do more, or be more, or have it all together to live an intentional life.
One of the coolest things about this planner is the cover variations that I and my team put together for you. You don't have to print all five and you will choose the design that you like best for your planner cover.
---
How I Put My Planner Together
I am so excited to get to share the opportunity with you on how I put this planner together along with some tips and tricks about how I use it.
MONTHLY CALENDAR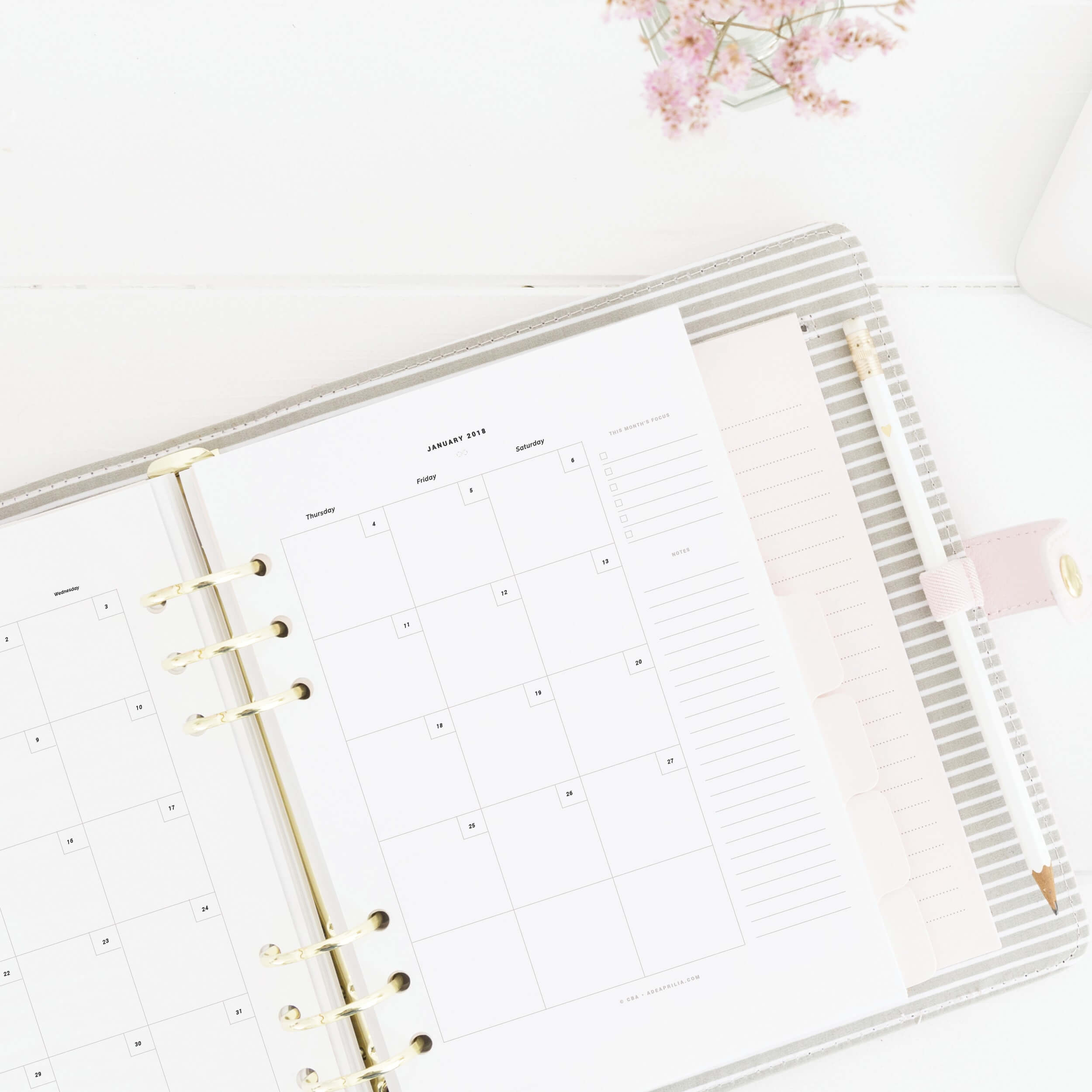 The first section of this planner is Monthly Calendar.
This section is completely optional – you have the same one on your Task Planning section. But as a business owner, this section is really important for me because I plan my year all at once.
I don't know about you, but I really love to plan my month. I also love to easily flip through to get an overview of all my months at a quick glance. That way I can make any adjustments I need to make to keep the business rolling.
This is why I made the monthly plan in a spreadsheet so I can easily track things. If you're like me, you will love this planner.
TASK PLANNING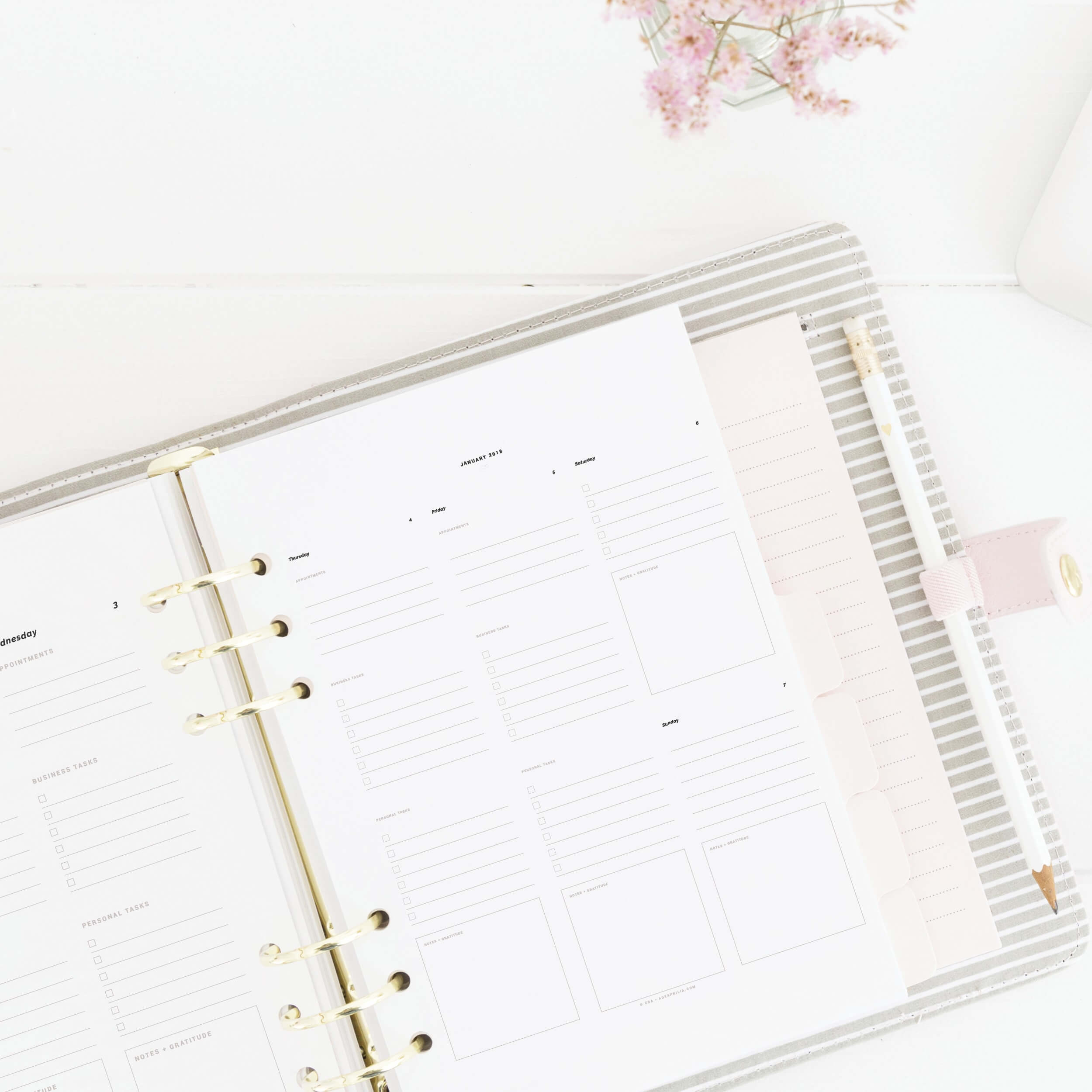 This is how I keep track of the week I'm currently in. I love to see my entire week all at once.
On Monday morning, I will sit down to consciously plan and write down whatever I need to accomplish through out the week. I encourage you to strategically plan your week and keep releasing on any necessary action you may need to take.
You can use the Notes section to write down a reminder that doesn't really need to be accomplished during the week.
---
---
Why This Planner Is Different
If you're already have the planner that you really love, you might still want to get this planner because it's packed with a lot of good stuff.
ACTION STEPS SHEET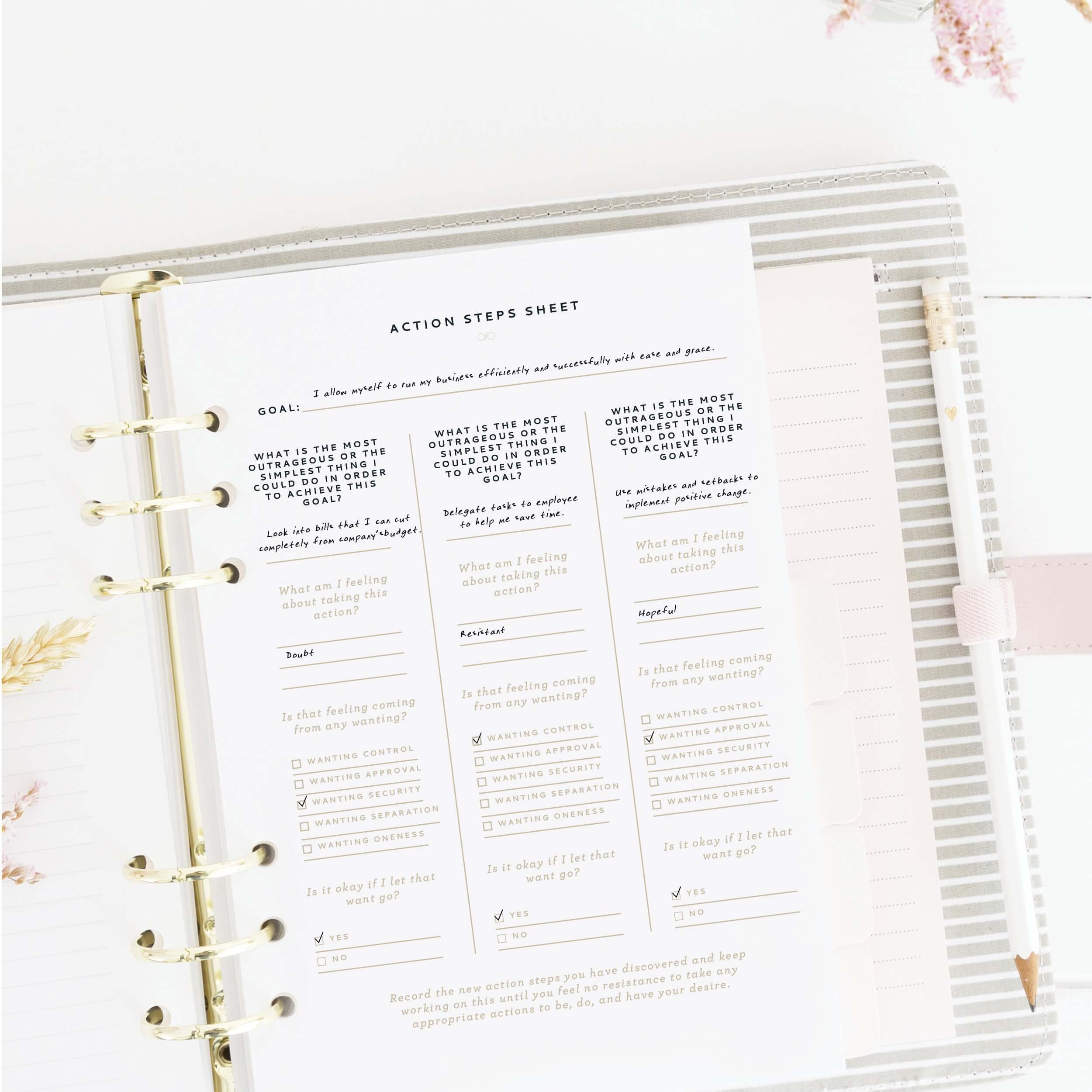 I absolutely love this section! I'm the kind of person that really love taking action, but most of the time, I really can't stop doing things!
This action steps sheet helps me to a discernment which actions I need to take and which actions that weren't necessary. Everything comes naturally and intuitively from my knowingness and clear reason.
I put this sheet separately so you can print more pages if needed.
FINANCIAL AND HEALTHY HABIT TRACKING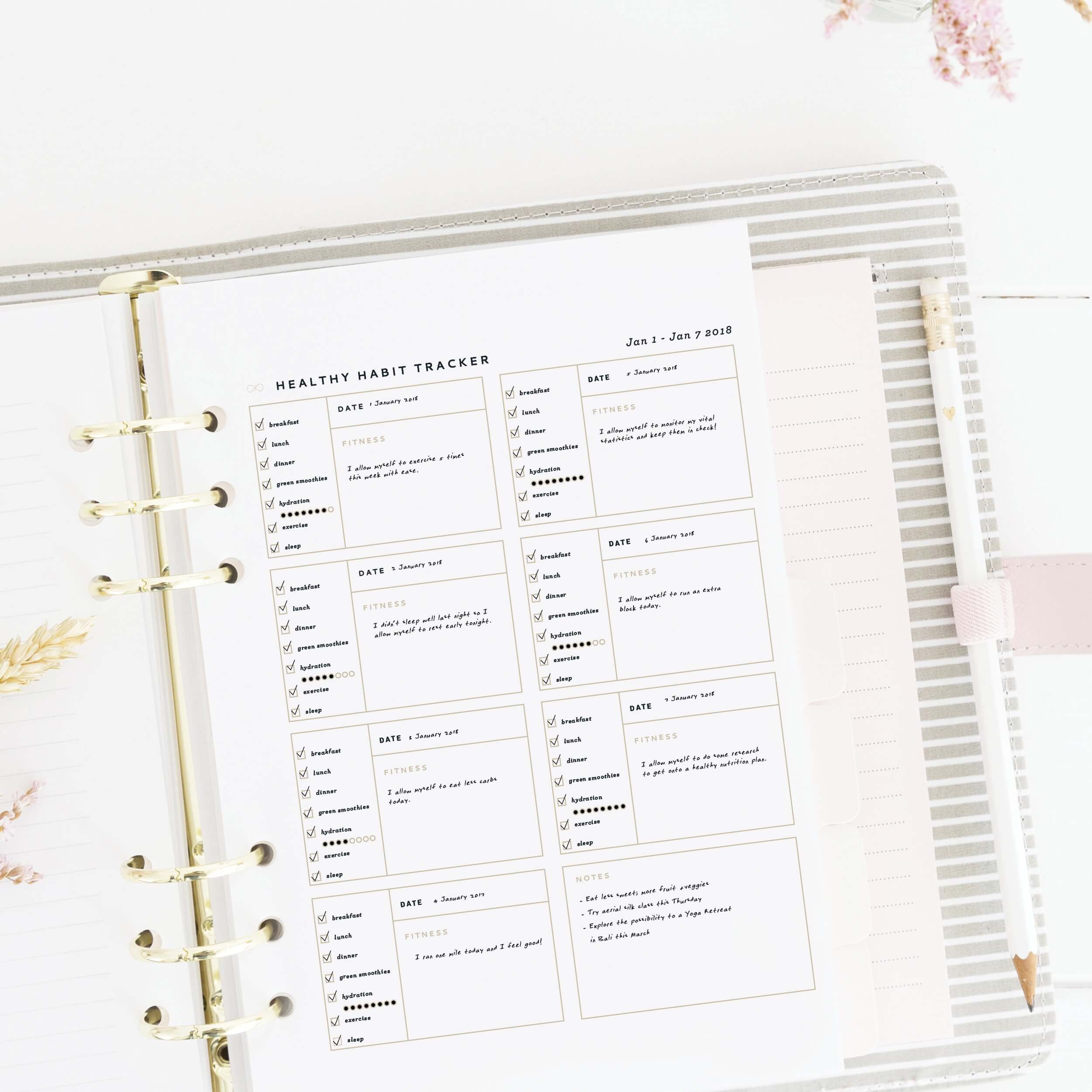 Tracking your successes and failures are important. This is why I enclose the financial tracking and healthy habit tracking in this planner.
I particularly love using the health tracker sheets because I understand that my body is my partner to support me in life. This is my way to take care of my body and mind and connect with God.
So this section is where you plan out any of your actions to achieve your health goal. I purposely put dates at the top of every sheet.
WEEKLY EVALUATION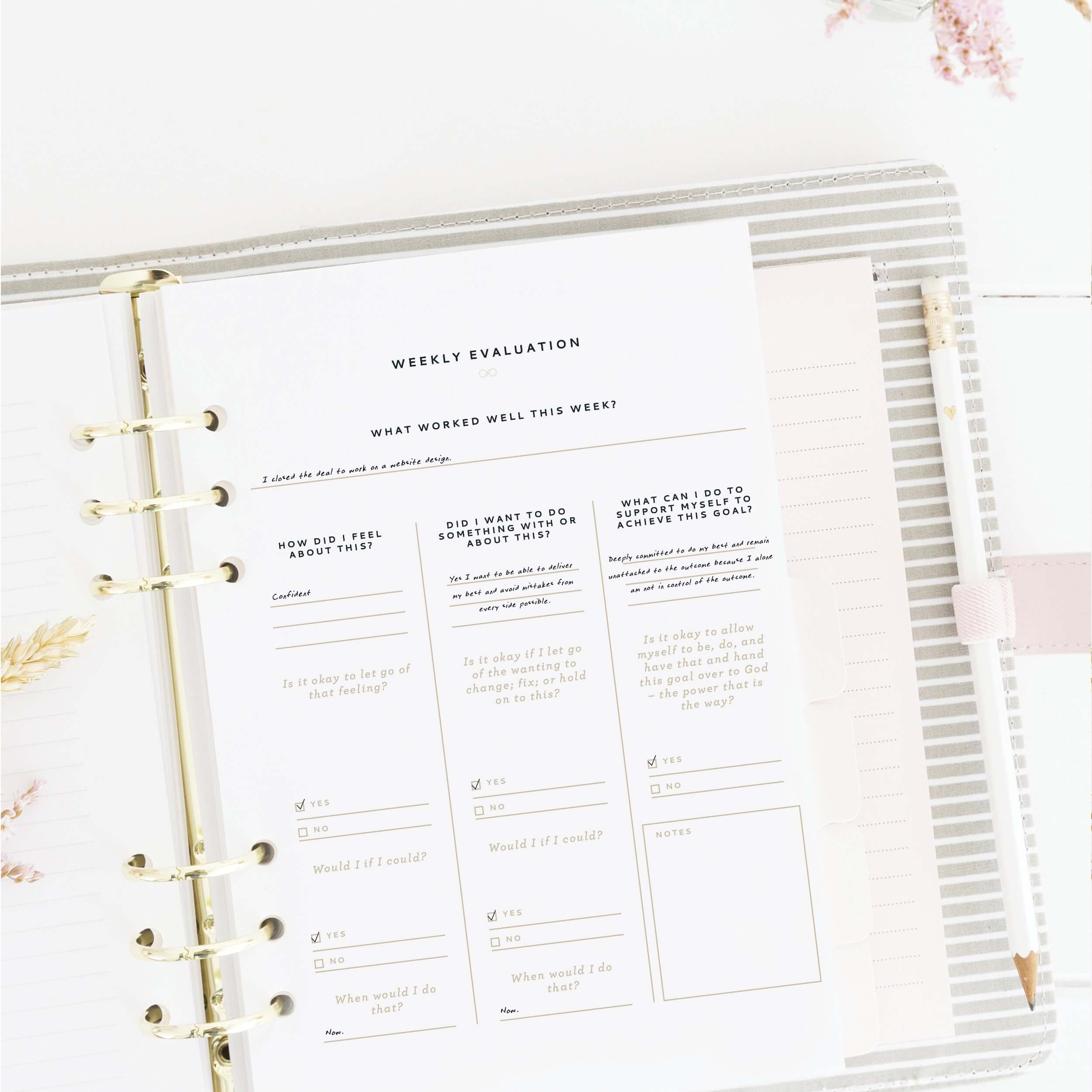 Weekly Evaluation Sheets are very helpful to support me with my goals. I can track what worked well and what didn't work for me so I'll be able to release any emotional challenges that I experience during the week.
MONTHLY GOALS REVIEW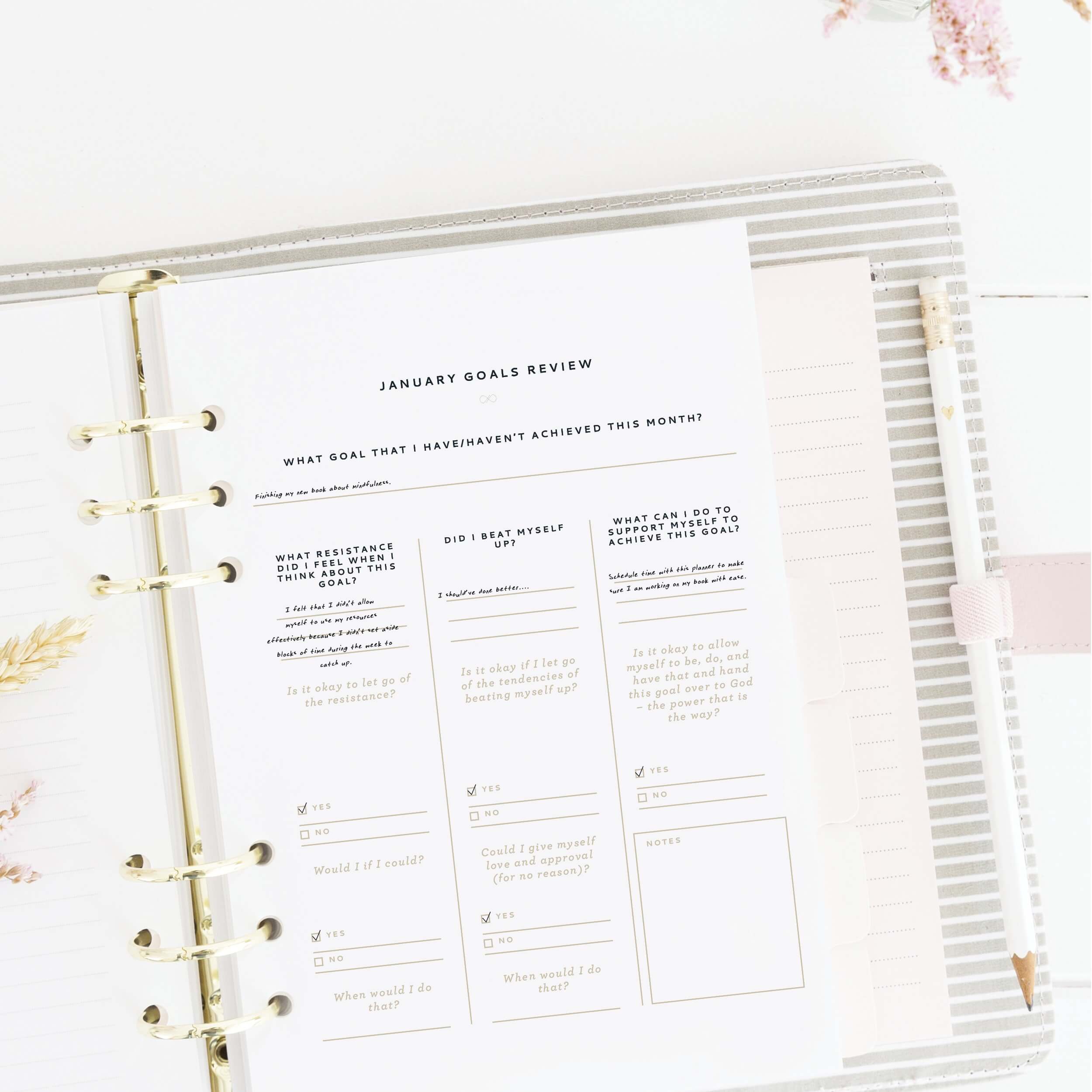 Monthly Goal Review section helps me to track my goals and my emotional challenges to achieve my desires. It puts me back on track without having to beat myself up.
---
---
BRAIN DUMP WORKSHEET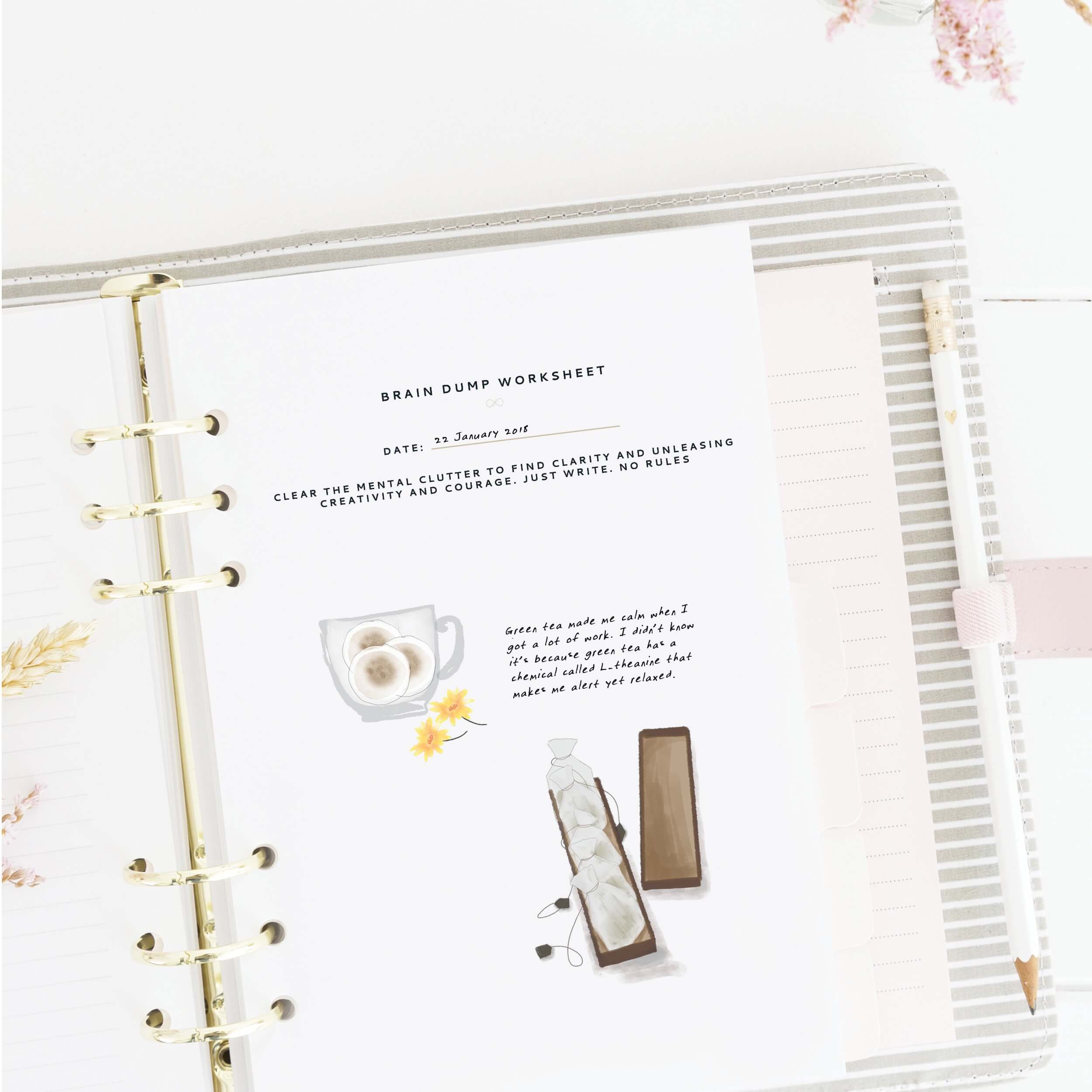 Your brain is not meant to hold all of the stuff you want to do. Keeping it all up in there will only serve to disappoint you in both the short and long term.
This is why I love the process of releasing and letting go because it gives me courage and clarity.
The second thing I love to do is to do a "brain dump" and have some old-school fun! There's something incredibly powerful about holding a pen or create collages with images in your hands. You can't get that from dragging images around on a screen. You need to touch them. Feel them. Trust your instincts!
This planner comes with 4 variations of Brain Dump Worksheets to make things easier for you. Time for your hands-on exercise!
GRATITUDE JOURNAL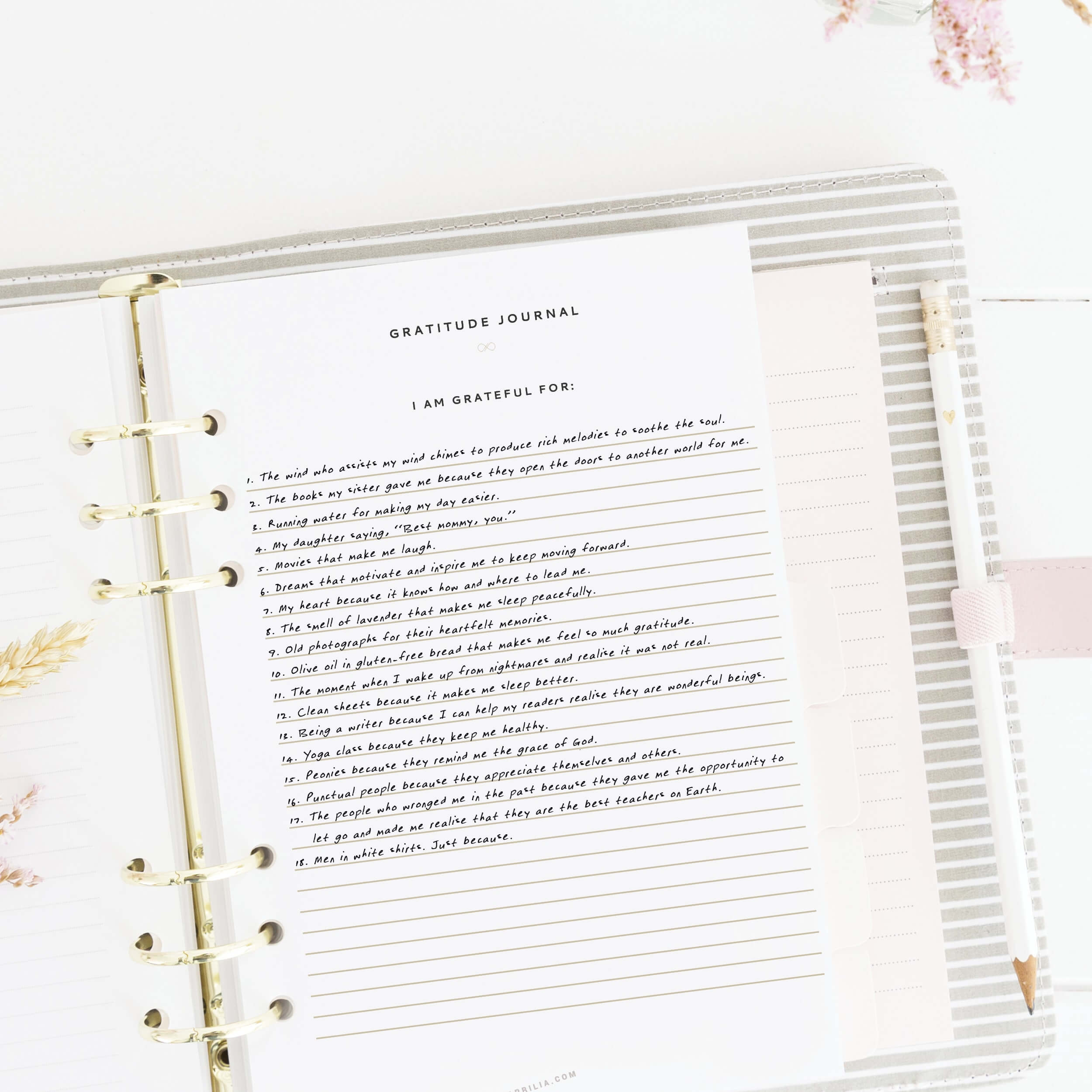 One of my favorite things to do at the end of the day is the simple act of writing down the things for which I am grateful.
Gratitude journaling is really different from merely listing a bunch of pleasant things in my life so I really take my time to feel the feeling. It makes me more aware of them, deepening their emotional impact.
After that process, I let go of wanting to hold on to those good feelings. The weird thing happens after that: I sleep better.
WEEKLY AND MONTHLY MEAL PLAN – UNDATED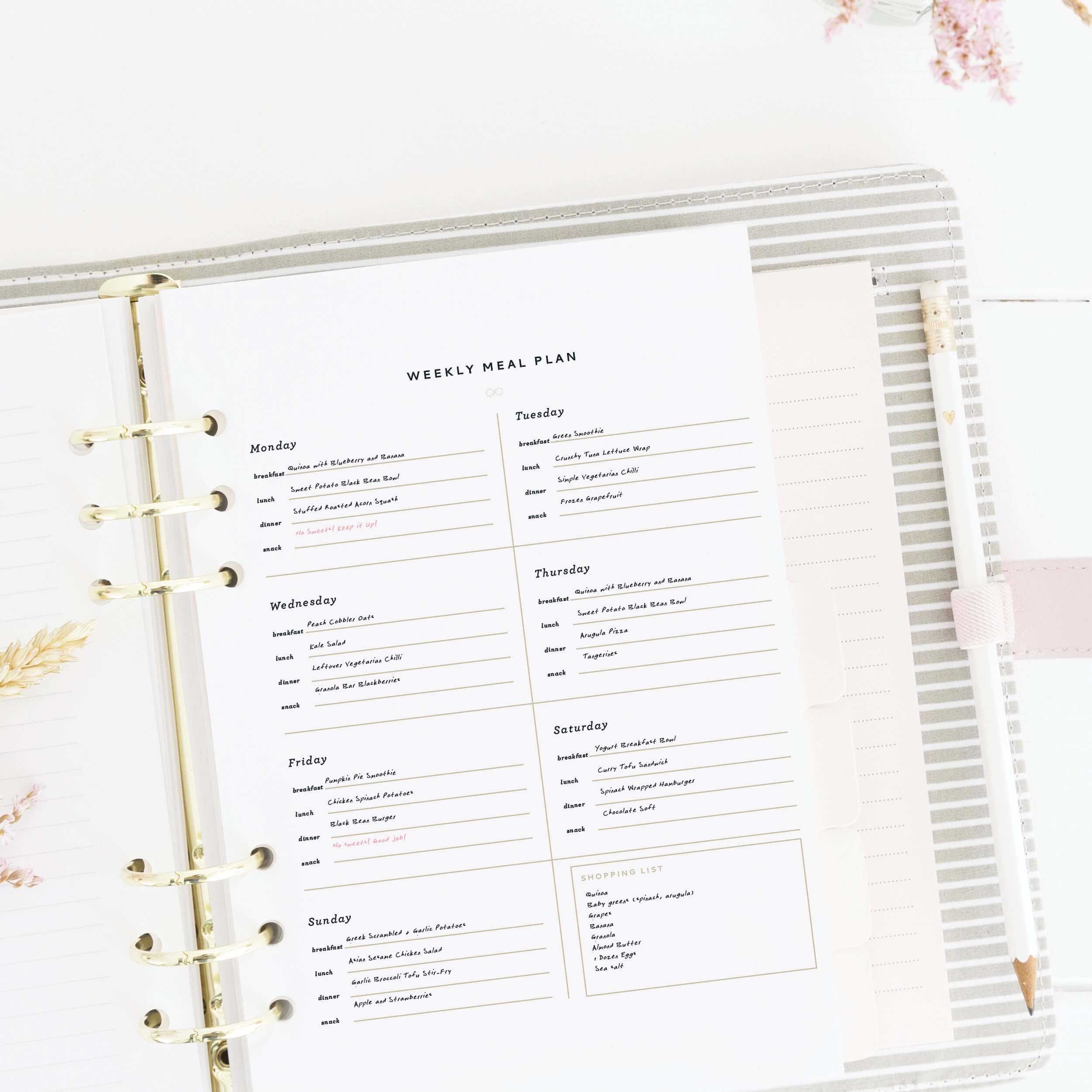 This is one of my favorite sections of the planner.
Use this Monthly and Weekly Meal Plan to help you plan a whole week of meals and makes cooking and shopping easier than ever. It is a great way to keep your kitchen organized.
Why? Because planning out your meal before you go grocery shopping can keep you from making spontaneous food purchases that often go uneaten or expire, saving you money and trips to the dumpster.
---
Other Resources You Might Need
First, you will need a binder to hold all the sheets together. Choose the one that you love so you're happy working on your heart's deepest desire through out the year. You also might want to use dividers from office supplies stores to find the ones that you love.
I love paper clips. They are great on marking a page in your week or the month you're working in.
If you're like me, invest on some colorful pens for color coding.
I use washi tapes and stickers on my Monthly Calendar section to mark off an extended period of time and make an index card.
Make your goal happen, right where you are.
Ready to live your life and business you love this year?