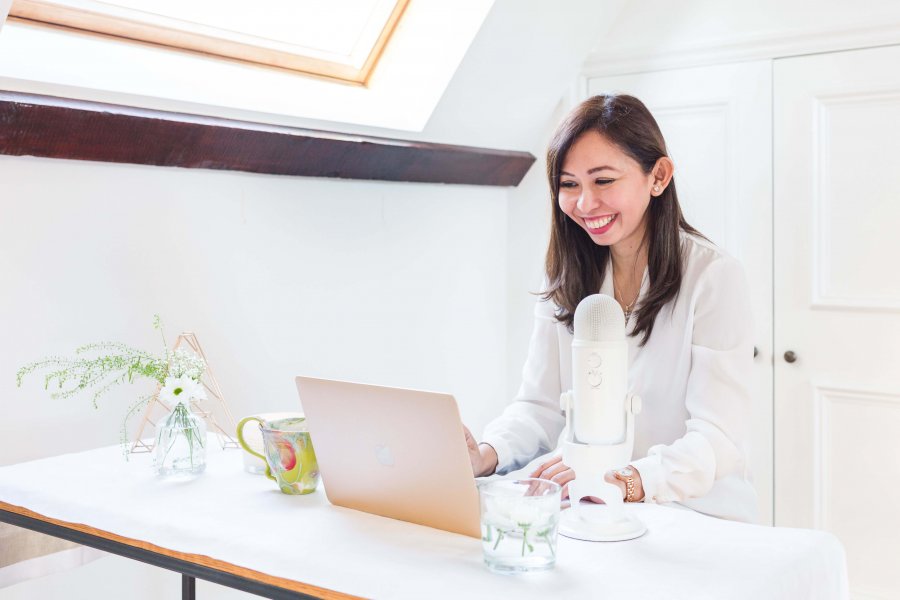 Last Updated on June 14, 2020 by Ade Aprilia
As a healing coach, my goal is to talk to my tribe slash those interested in my services. If someone raises their hand to learn from me, it's my job to show up and do that!
Nurturing my tribe using well-timed emails is the name of the game.
Unlike the website copywriting, the email newsletter is a bit more intimate because it's an invitation into our personal space. My email list is a place to stay connected to my community. It's a place to share tips and tools. And it's a place to gain friends along the way.
If you're anything like me and have all the good intentions of using an email marketing list, you'll love Flodesk.
(the link is an affiliate link which means I get a commission if you purchase through me, but you'll get 50% off your Flodesk subscription too)
---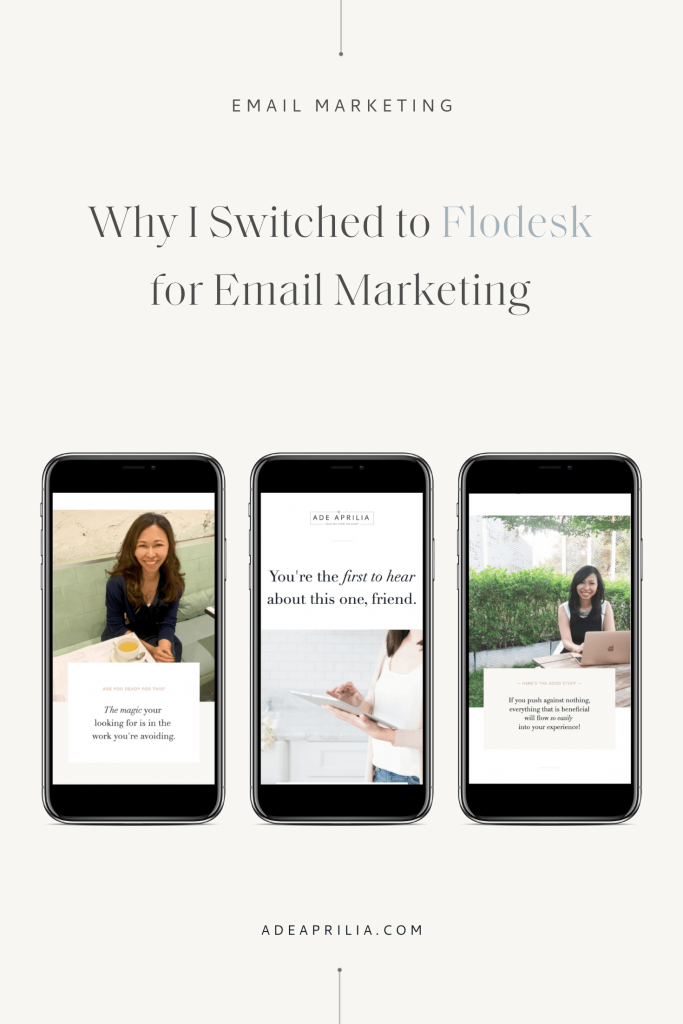 ---
Doing Flodesk The Right Way
---
Before I dig into why I switched to Flodesk from MailerLite, I wanted to explain what they are.
Flodesk is a brand new email marketing platform—a tool to help you design simply beautiful, high converting email campaigns, unlike anything on the market.
As an email marketing platform, Flodesk is dedicated to simplify email marketing and make it more intuitive.
---
---
I switched quickly from MailerLite, and I am glad I did as my business grew! I literally packed up and canceled my MailerLite subscription the next day.
Today, I'm sharing the 9 reasons why I'm switching my business over to Flodesk for email marketing. This switched was probably one of the easiest decisions I've made in my business!
I kinda can't believe I'm taking you this far behind the scenes, but let's do this thing—because I wish someone showed me the tools of their toolbox when I first got started my business!
Oh, and meanwhile, don't miss your free trial—and 50% off—Flodesk code.
Keep on reading, so you don't miss out!
---
Why Flodesk Is More Tempting Than A Cinnabon
---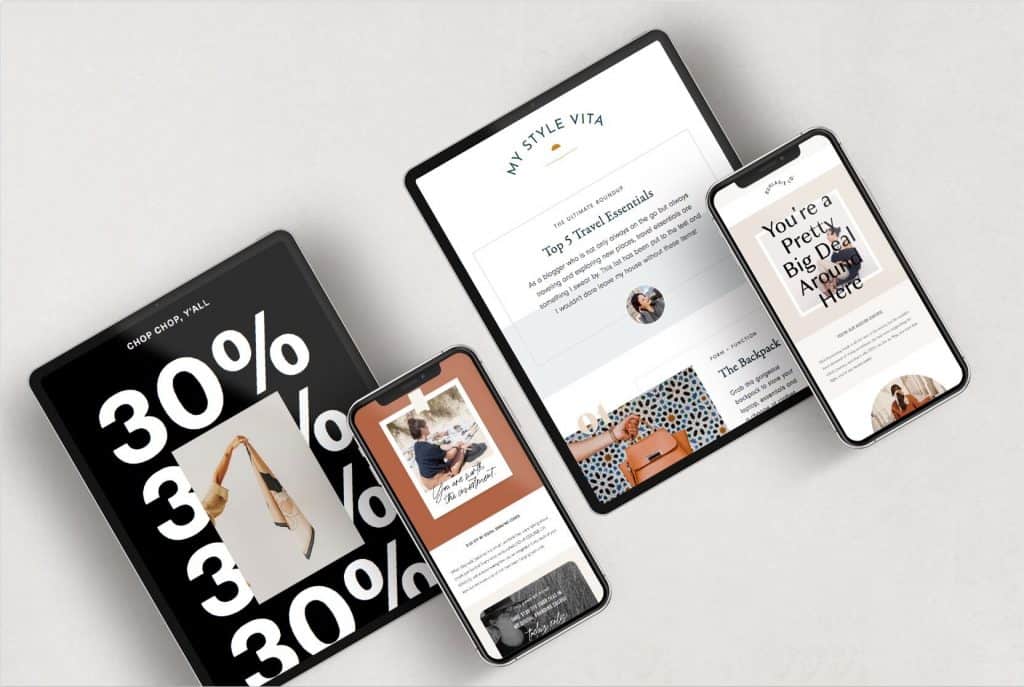 ---
I've always believed in the power of email marketing, but in the past, I got nervous to get my newsletter out the door for one key reason: I failed to build out well-designed emails. Perfectionism is an issue I've definitely had to *still* do a lot of heart work around it.
For that reason, I'm glad Flodesk has joined the ranks to help creatives and businesses #uptheiremailgame with ease.
Why Flodesk?
There are some great options out there: ConvertKit, MailChimp, AWeber, MailerLite, etc.
But after giving 3 different platforms a whirl, I never looked back.
Flodesk is very intuitive and friendly, it gives me such peace of mind knowing that I can strategically target my tribe. Their service allows me to tag email newsletter folks with what they're actually interested in. Because in a world of rest, ain't nobody got time for emails they're not interested in.
---
Why I Switched to Flodesk From MailerLite For Email Marketing
---
Up until a few weeks ago, MailerLite was the best option for me because it is one of the most cost-effective email marketing tools around. Until you've exceeded over a thousand subscribers, you don't have to pay a cent.
But.
MailerLite made automation, segments, and tagging way too complicated. Their automation feature was just not as seamless as Flodesk.
And MailerLite's approval system plays a game. It alleges you as a spammer while you are not.
Unlike other email platforms that you can sign up for free or on a trial period, Mailerlite requires you to follow a step-by-step instruction for the system to approve your account.
The problem is that you don't have a guide that will tell which steps to take next to complete the process.
To make matters worse, their system won't say why your account is rejected (if it comes to that point, and it was actually my experience with my other business).
You made all the effort to fill out your profile only to be dismissed in the end without rhyme or reason.
Thankfully, I have a tool to deal with unwanted emotions such as rejection, or anxiety's still around — even though I understand that nothing is personal because what others say and do is a projection of their own reality, their own dream.
Well, I didn't have a great experience with them, but that doesn't mean they aren't good for you. Try them and reach to me with your experience.
Next. Moving on.
In this post, I hope I can tackle some things you were wondering about my switch to Flodesk!
---
No. 1: Clean and Minimal Design
---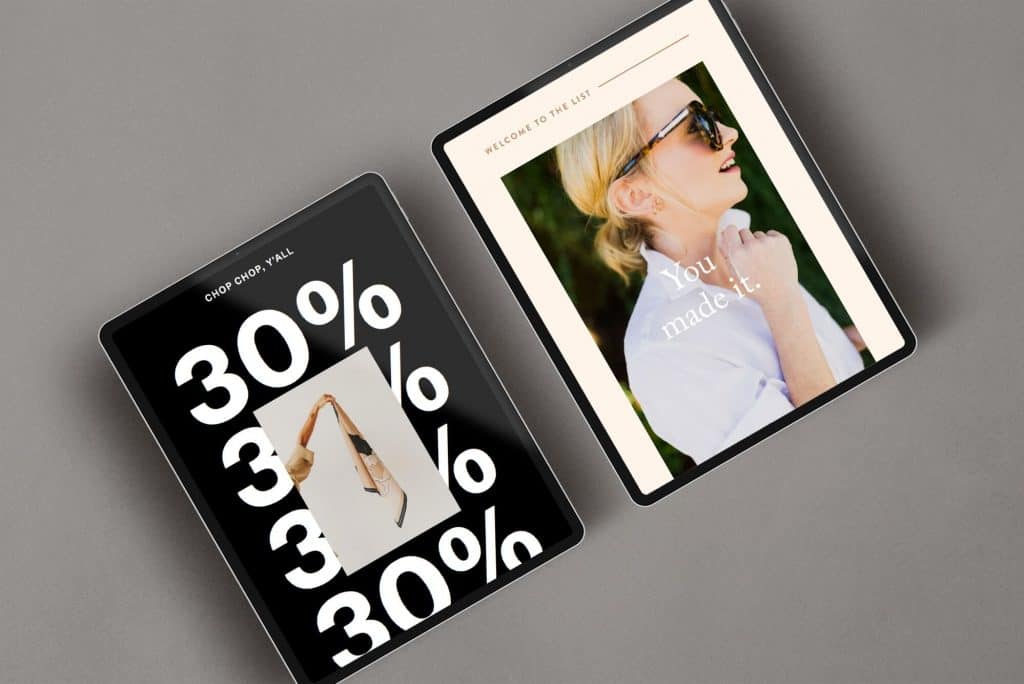 ---
Even though I've already let go a lot of my perfectionism and more into self-compassion, there's still *a little bit more* of perfectionist tendency in me, especially if we're talking about something pretty and functional.
I'm all about design and I find a lot of email marketing programs are so icky looking.
I released on that situation a lot…, and you know what happened when you let go. Persistent difficulties clear up, exciting new possibilities emerge, and serendipity smoothes the flow of events.
With the launch of Flodesk, the thing has all changed.
In less than a year, Flodesk has managed to build a platform that's more intuitive than others.
Flodesk is changing the game for me and I am beside myself with excitement. So much so, I just had to share this with you because I think you'll love it too.
First of all, Flodesk is a visual builder and you don't need to know HTML code as you experiment your way through creating eye-catching emails.
Even though a lot of people prefer receiving emails that are text-based because it feels more organic and natural as if you're talking to a friend, it doesn't apply to my general clients.
I'm happy because now I can design emails people actually love to get in their inbox — and of course, look great on any device.
---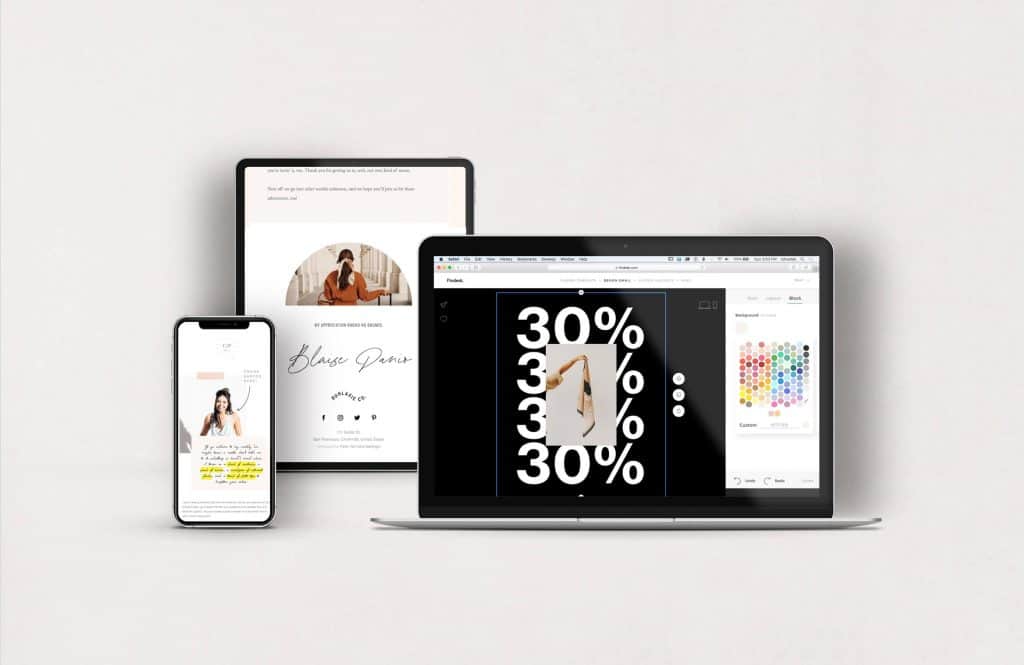 ---
And those match seamlessly with my brand.
Most noteworthy, I can compose beautiful emails that serve my clients/readers/followers in less than 10 minutes. It makes sending beautiful emails as simple as posting to social media. It was completely painless and it just worked like magic.
---
No. 2: The Templates Are Stunning
---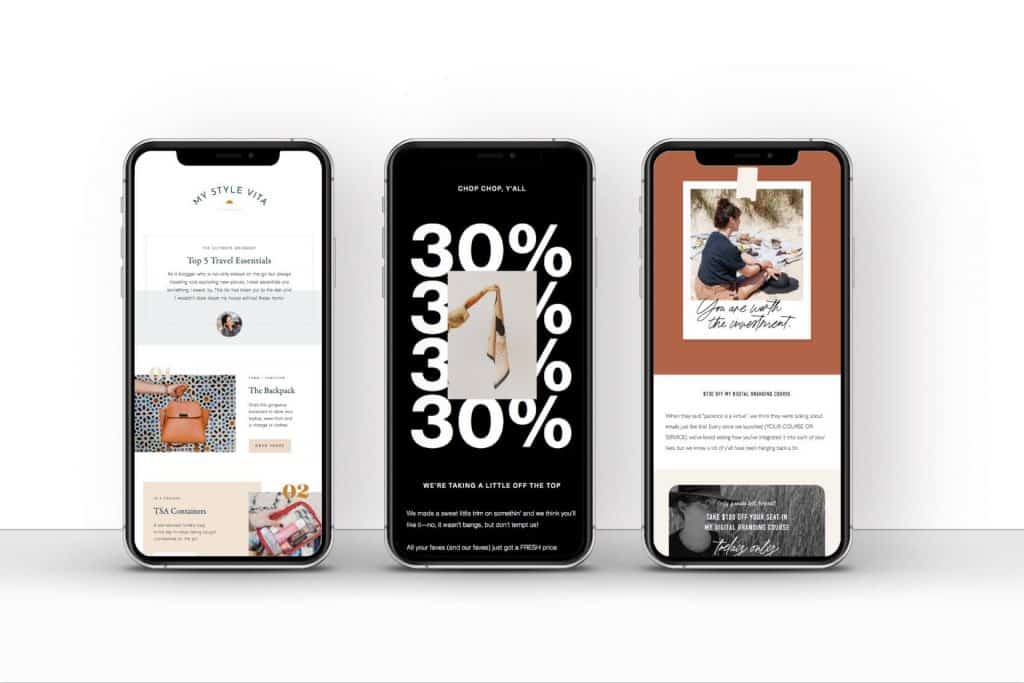 ---
Templates get a bad rap sometimes, but with Flodesk, you can give a super tailored and personalized newsletter.
Before Flodesk, I wasn't satisfied with the quality of the emails I was able to create on other platforms. Trust me, I've tried from Aweber to MailChimp.
MailChimp drives me insane because their templates' lacked personality. The fonts were very limited and it is not easy to navigate through at all. I found MailChimp to be difficult for a beginner to figure out.
Moving on, I've spent a lot of time customizing pretty uninspiring MailerLite templates over the years. The drag-and-drop builder was an advantage but I was a failure when it came to bringing them up to my high standards.
I tried to tweak and changed colors and font as much as I could to bring a polished newsletter that reflected the look and feel of my brand but never quite achieving what I really wanted. — Did I mention that I needed to tailor my graphic in Photoshop and InDesign to execute my vision? It took too much work, indeed.
I felt overwhelmed and therefore put email marketing on the back burner.
And guess what, one of the keys to effective email marketing that really grows your business is how consistent you can be. 😵
Therefore when Flodesk came to the surface, it felt like goodness gracious. I was in love as I laid eyes on the clean and simple email design templates by Flodesk. From the gorgeous fonts, the color palettes, layouts, and the templates, I found that creating branded emails to grow my business has never been easier and more visually appealing.
I now have an array of templates done and moved my whole list, forms, workflows into Flodeks in one day.
---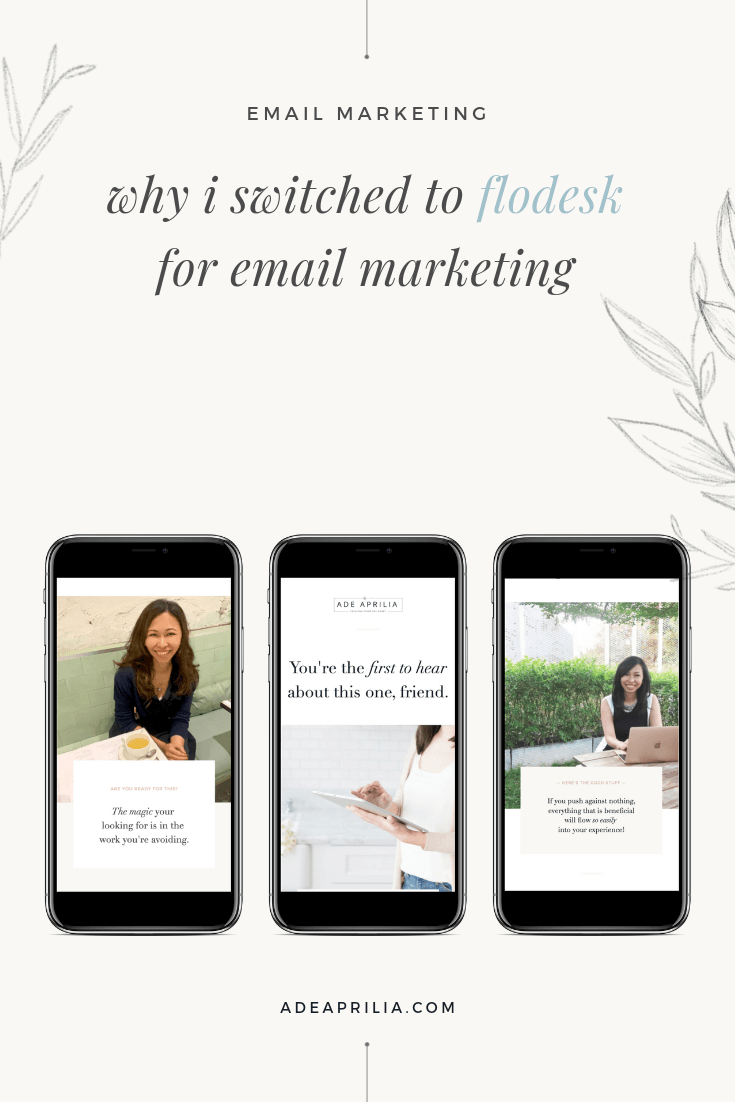 ---
No. 3: User-friendly Workspace
---
I love that Flodesk is so user-friendly. Flodesk automatically saves your changes and has undo and redo buttons so you can quickly go back a few steps if you've made a mistake. You can literally part ways to what seemed like endless clicking to save your template.
---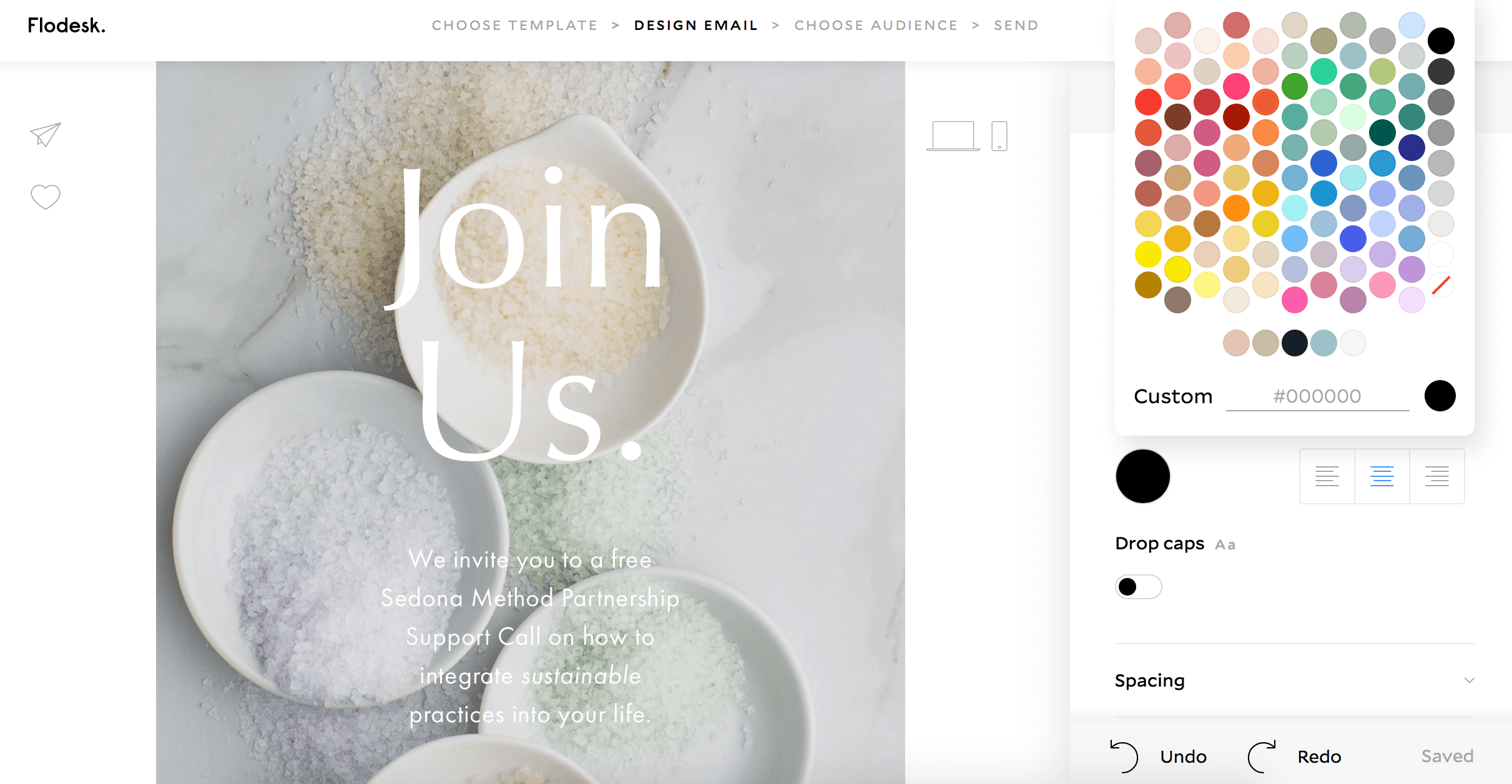 ---
It was also incredibly simple to deliver my lead magnet using Flodesk. I simply uploaded my free audio guide to releasing guilt and shame right inside the email and linked it to a custom download button. My subscribers can easily get their hands on what I promised them when they signed up.
And I really love the analytics overview for each email. It's super informative and yet easy to understand—giving you insights that can improve your marketing performance.
Using Flodesk has made creating emails a gratifying experience for me. Who said powerful couldn't be simple?
---
No. 4: Beautiful Forms
---
Flodesk makes it easy to build your subscriber list. It has several form options for collecting contact information from your website.
As we all know, if you don't already have a freebie opt-in on your website, you have no good way of collecting potential clients' contact information. Without their contact information, you have no way to support them, nurture them, and grow your value ladder.
Within minutes, I could build the subscription page on my website—which surprisingly looks great on desktop and mobile. I created my first opt-in form and customized it to match with my brand, paste the HTML into my blog and website, and direct my audience to download my lead magnet. This was so easy and liberating.
I'm slightly in love with the new pop up on my website.
---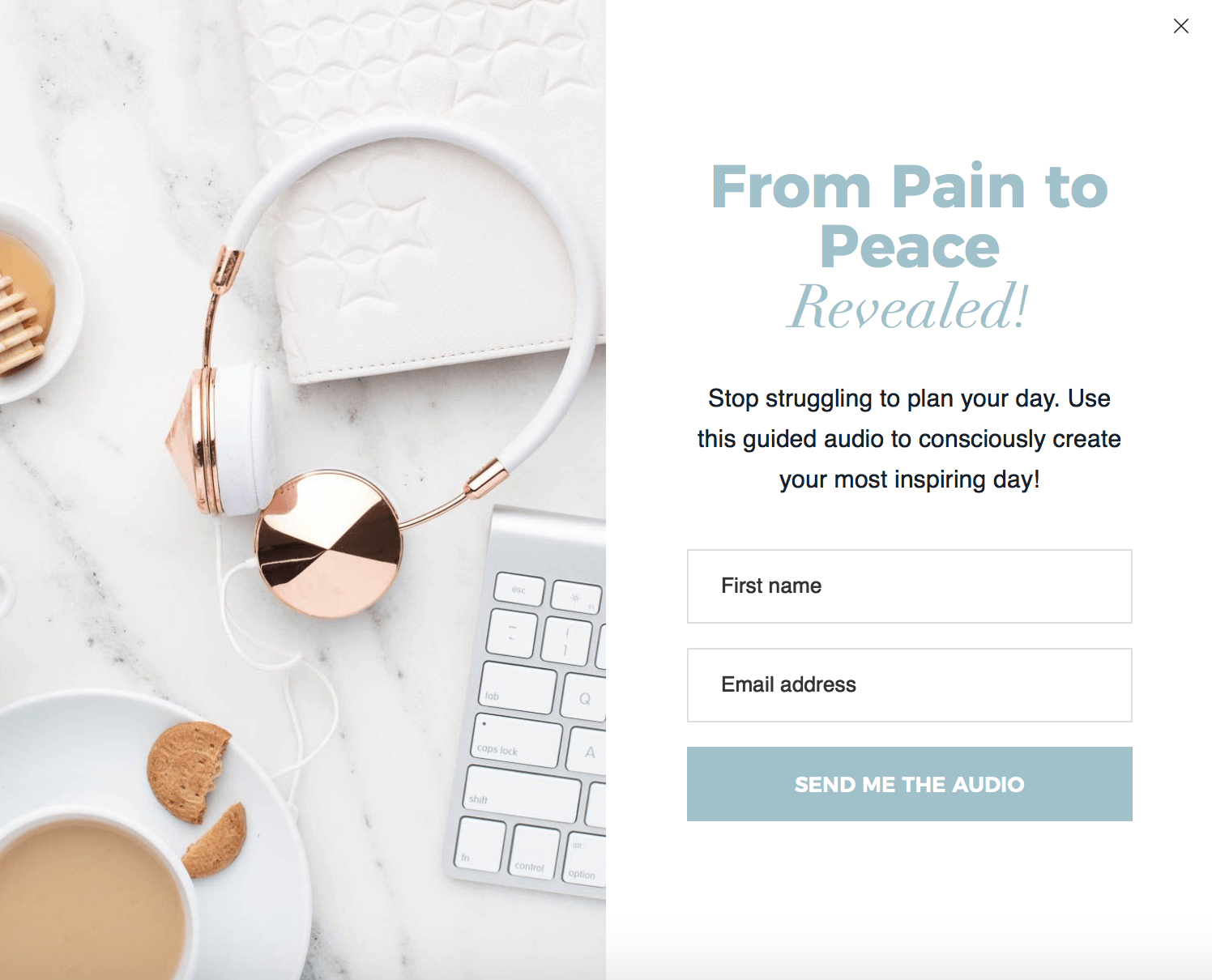 ---
No. 5: Automation and Workflows
---
You already know I'm a fan of workflow automation.
When it comes to using your email list to grow your business and brand, automation is key. Automating as much as possible with tech tools is one of the easiest work-life balance tips to make sure things flow with when you're off, but still check-in—if you need to.
If you have no idea what to do with automation, workflows allow you to send a series of emails automatically. I am talking about welcome emails, delivering free resources, and nurturing your subscribers.
Typically, an email is triggered when someone signs up for your freebie. The first email that goes out delivers your freebie. Then each day is a series of emails with an introduction to you and the services you offer.
I love to use a Fibonacci sequence (0, 1, 1, 2, 3, 5…) for workflow automation. I want my subscribers to see how much heart I pour into every email I send. They have opened the door to their inbox, and I want to honor that with value and pleasant, branded emails.
---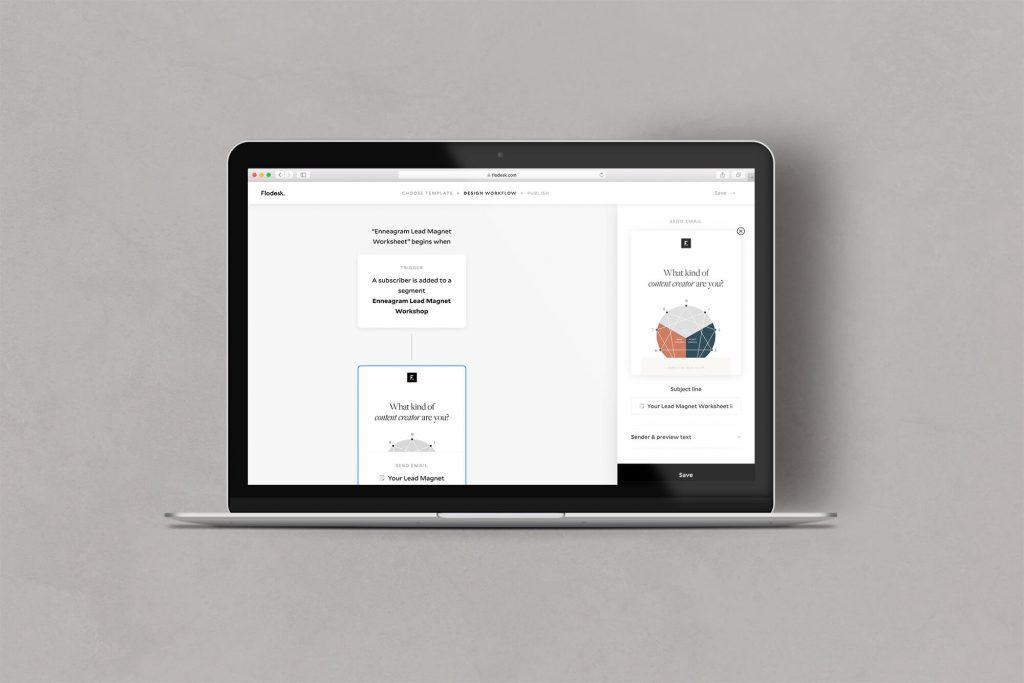 ---
Flodesk has workflows set up to guide you through what you want to happen–from a lead magnet delivery to a welcome sequence to nurture your email list. Flodesk has simplified the process and put the power back into your hands.
---
No. 6: Segment My List to Send The Right Message
---
Let's talk about how to organize a small business… because I'm guessing our brains work similarly. By keeping organized, you can increase your productivity and save time to work on an important task.
The goal of segmenting is to hyper personalize your communication so it's always relevant and adds value. Sometimes, emails are not one size fits all. One email might appeal to some people on your list while others need something completely different.
Flodesk is encouraging you to have all of your subscribers in some sort of defined segment to keep your list organized. It is perfect for those of us juggling two or more different lists of sign-ups.
The only thing that is currently missing right now is adding subscribers to sequences based on links clicked in emails and removing clients from sequences after something has been purchased or a survey has been done. It's coming soon, though.
---
No. 7: Adding Instagram Feed
---
If you know me well enough, Instagram is kinda my thing to educate my readers/clients/followers. It's packed with stories, letting go tips, and creating from the heart tools.
With Flodesk, I can easily pull my Instagram feed right into my email. It gets updated automatically and keeps my welcome sequence super relevant by pulling my latest content right into the email.
You can click on any image and be taken right to that insta post. Such a perfect tool for educators, creatives, and influencers!
---
No. 8: More Open Rates
---
When we send email newsletters, we want our audience to feel the love and the effort we are pouring into our communication with them. Flodesk makes my creative brain happy and my audience will be able to have a better connection with my content.
---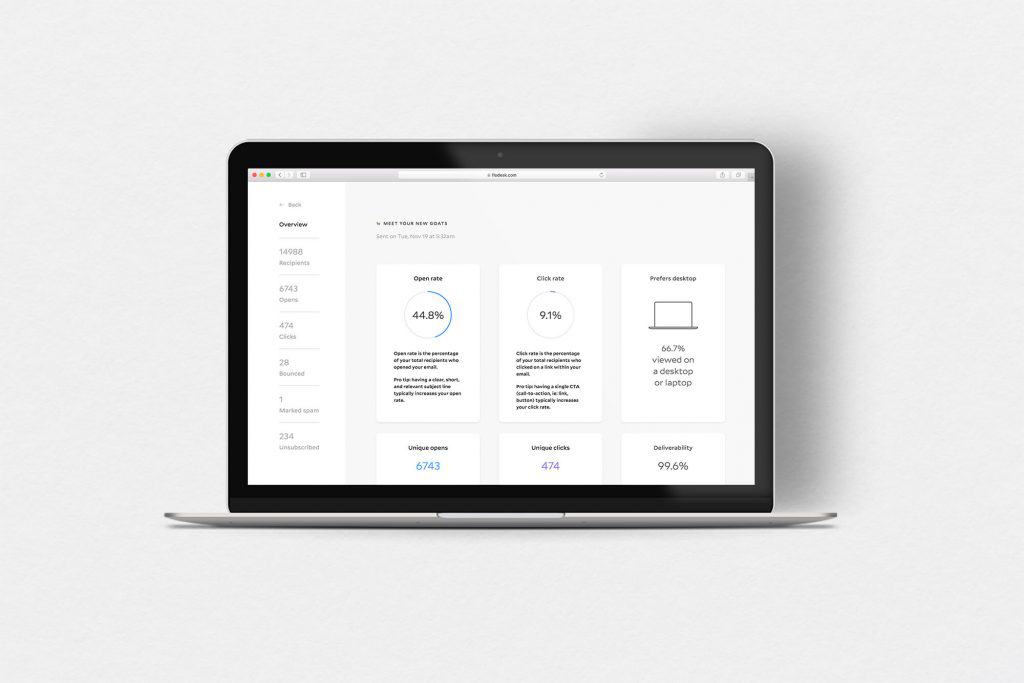 ---
I relaunched my newsletter a few weeks ago, and if you are curious about the open rates – there are statistics to help us in Flodesk.
My email with MailerLite had around a 33% open rate. Not bad. The first emails I sent with Flodesk hit 60% open rate, and those that opened clicked more and that's what I wanted.
I feel content that my open rates percentage popped back up, and I'm now seeing the people who were actually reading my carefully crafted copy all along.
Better yet, I'm happy that I engage well with my reader/follower/client and they're now excited and into what we can do together.
---
No. 9: One Price For Unlimited Everything
---
Other platforms punish you for growing your list. The bigger subscribers you have, the more you pay each month.
Flodesk is different. They have a flat pricing model, so you'll never have to worry about how many subscribers are on your list! I love that this platform doesn't raise your monthly fee as you grow your list. That means that you can get to growing your list, no matter where you are in your journey.
Rather than paying $38 per month, they offer you 50% off your Flodesk subscription if you're using their member' links (like me).
You can get access for $19 per month for a lifetime.
---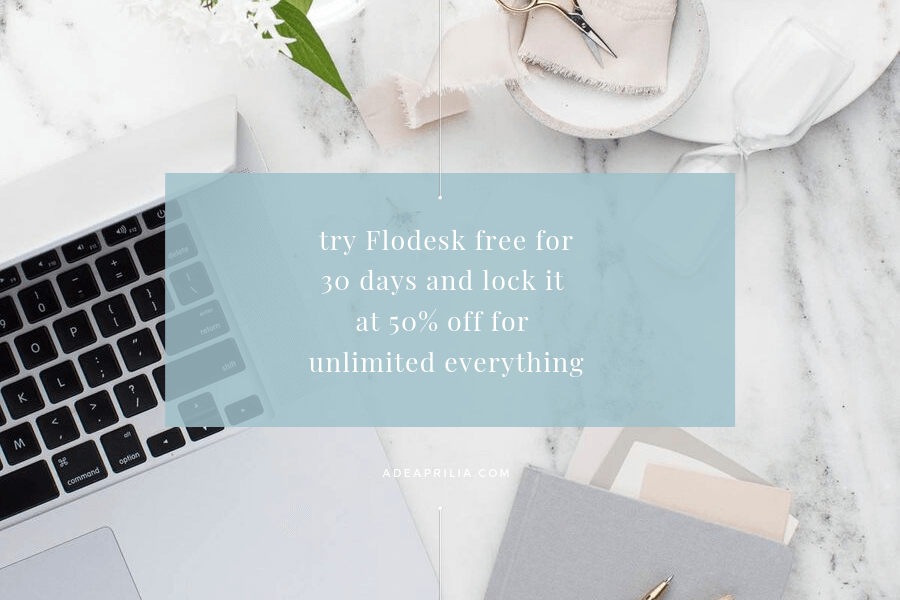 ---
---
Therefore, I am grateful to be supporting this company because they care about us. I'm sharing my link with you for everyone's highest and best good.
I know this is going to be a game-changer to share your knowledge and grow your email marketing.
---
Have I convinced you yet?
---
Well, don't take my word for it. Take it for checking.
Just sign up and see for a free trial of one month now. No credit card. No commitment. Only love.
---
SAVE THIS PIN!
Did you find this post useful, inspiring? Save THIS PIN to your board on Pinterest!