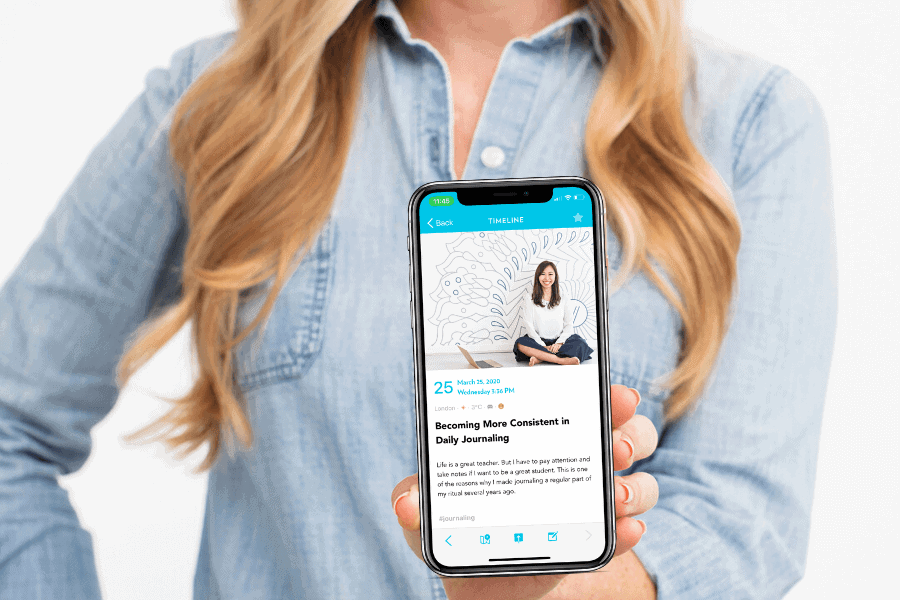 This post may contain affiliate links. If you make a purchase, I'll receive a commission. Disclosure
---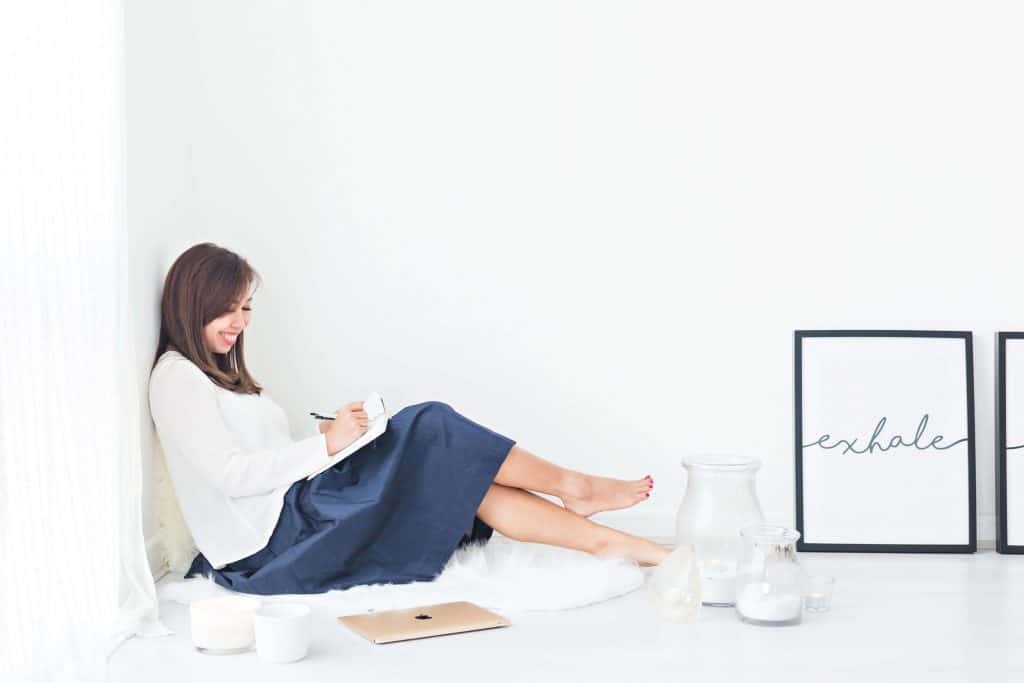 Let's talk about journaling…
…because y'all KNOW I love some journaling for emotional healing in action.
It may sound too good to be true: journaling for emotional healing.
So, think back: Remember how you instantly feel relax when putting pen to paper to write down your thoughts, and it also helps you to make sense of your story and allows you not just to survive, but to thrive? Yep, me too.
---
---
READY TO LOVE YOURSELF?
Check out my free guided audio to get started on how to release emotions painlessly on the spot!

---
There are many reasons to start journaling for mental health. Because writing helps you to be honest with yourself about what you're feeling in ways you may not be able to share with others.
---
Keeping a journal allows you to:
solve problems from different perspectives
track your personal patterns of behavior
reflect on your growth
improve your creativity flow
increase your positive energy
motivate you to do better
be more grateful
have a healthy and calmer mind
---
Personally, I love to release my emotion when they come up, and then when I DO get on journaling, I get to just do that for fun. Both give me the freedom to process emotion in the healthiest place.
---
Doing Journaling The Right Way
One of the things I get asked the most is this: "Where should I keep my journal?"
Well, I used to traditionally have done that in notebooks, but I have moved on to bring the experience of journaling into the digital world.
There are a ton of great apps and software out there designed to keep your memories in a single place.
I can tell you what works for me, that's a big two praise hands up for Journey.
If you're anything like me and have all the good intentions of using journaling, you'll love Journey App.
---
---
Journey is a journaling app that keeps your private memories and supports you to create a healthier, happier mind. It allows you to record your daily events, dreams, secrets, gratitude, and relive those moments.
The Journey App has more features than any other journaling apps that can take out the true essence of writing a journal from within you.
---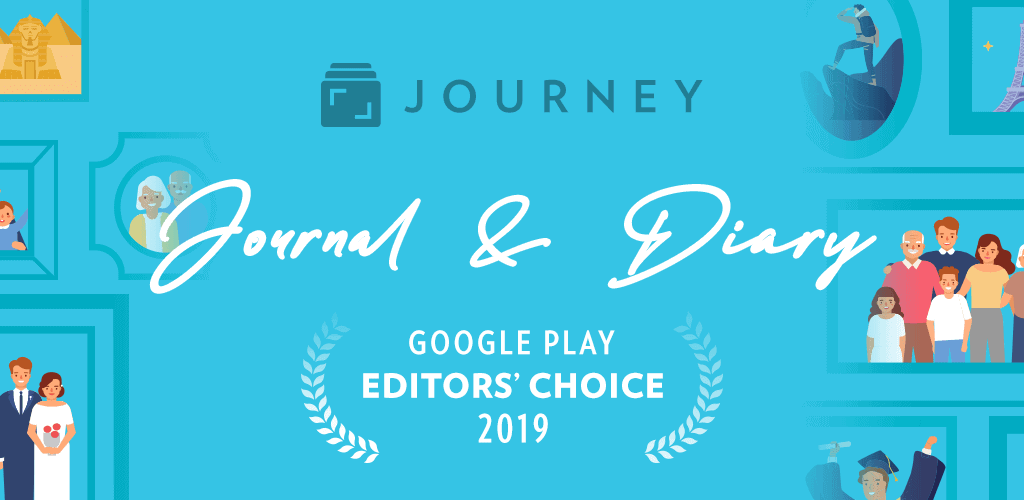 The Journey App has won prestigious awards including Google Editors' Choice 2016 – 2019, App of the Day 2019 by iOS App Store, Best of 2017 Apps, Excellence Award 2018, and iOS App Store Best New Update. 
---
Trusted by millions of users, Journey is a perfect journaling companion for self-improvement. Why? Because this app is more than just a journal or a diary. This app acts as your own motivational coach and happiness trainer that allows you to begin the practice of journaling into the digital world.
You can conveniently use Journey on almost all platforms, including, macOS, iOS, Android, Windows, Linux, and the web. This cross-platform compatibility is possible thanks to Google Drive sync that enables you to backup your new journal entries from this point forward.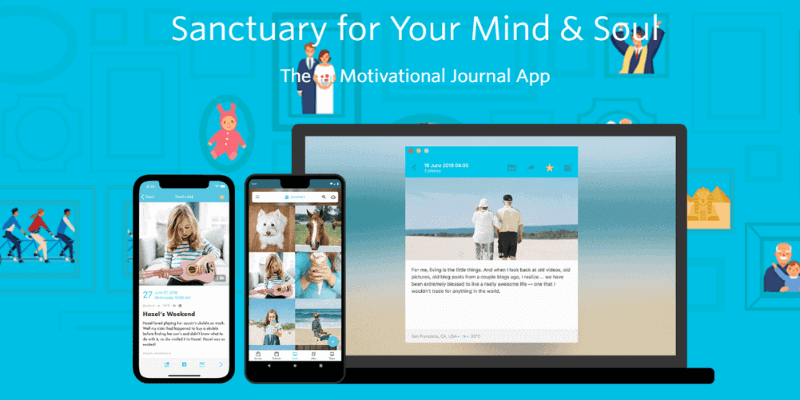 Journey App lets me connect with myself and explore the joy of writing emotions while covering all my life aspects and taking away the pain of journaling!
In this post, I hope I can tackle some things you are wondering about why I love Journey!
---
No. 1: Journey App Plays An Essential Part In Life
I love how Journey supports me to note down all my day-to-day activities in the most effective way so I can relive the moments from the past anytime I want to remember and feel good about those memories.
Journey App offers plenty of features to make writing a smooth and painless experience. It takes care of many things by itself, so we don't need to put any extra effort. Just click the "+" and I can start to jot down my thoughts. How I love that simplicity!
I just need to pick up my phone or sit with my MacBook and start writing whenever I feel like to. I don't need to wait for the whole day to get home or grab my phone from my bag just to start pouring ideas into words!
For a better improvisation of our writing experience, the app sums date and time to the entry while automatically mention the weather conditions and feature nearby locations with geotagging.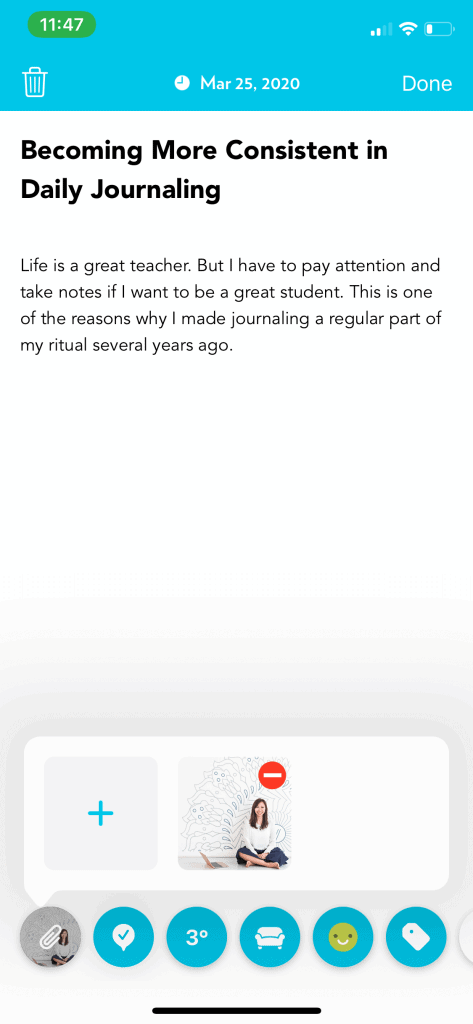 I can write either a long text or a quick paragraph at any moment.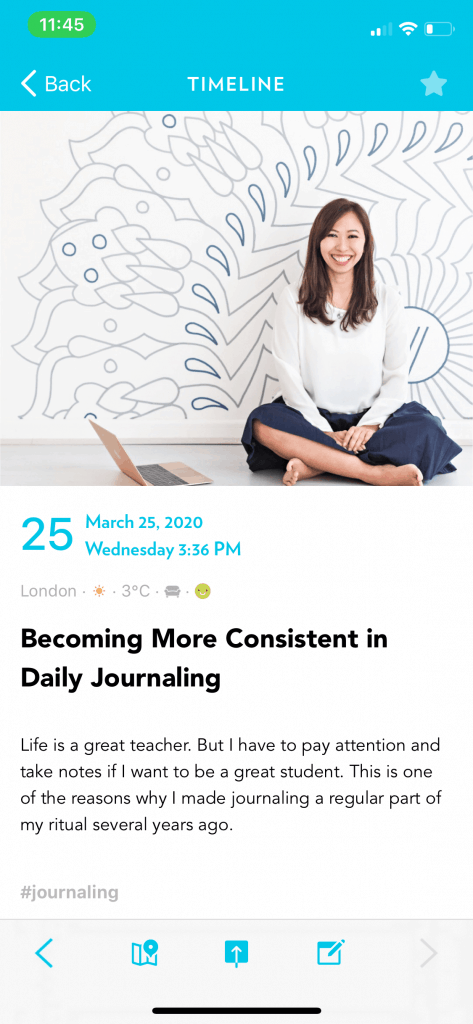 You can also add tags to help organize and find your notes easily.
---
Another good thing is, Journey enables me to add voice notes, multiple pictures, and videos while writing my journal.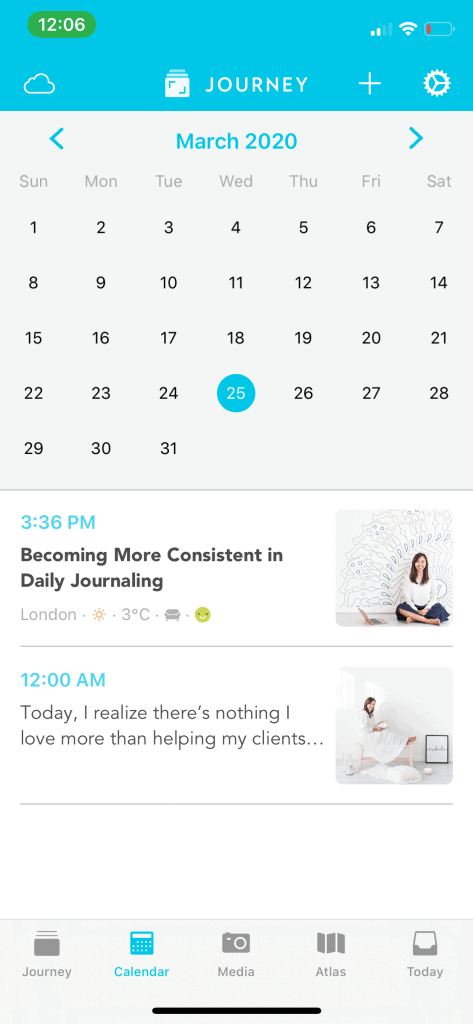 You can find your entry in the inbuilt calendar for any of your journals.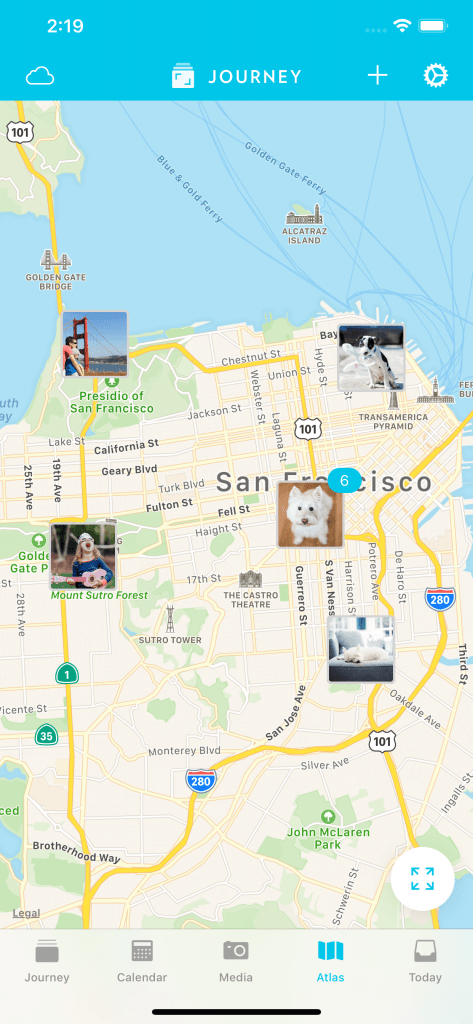 If you want to view your entries, you can search them on the map.
---
Journey also captures mood indicators through simple smileys, in case you want to note how a particular memory made you feel.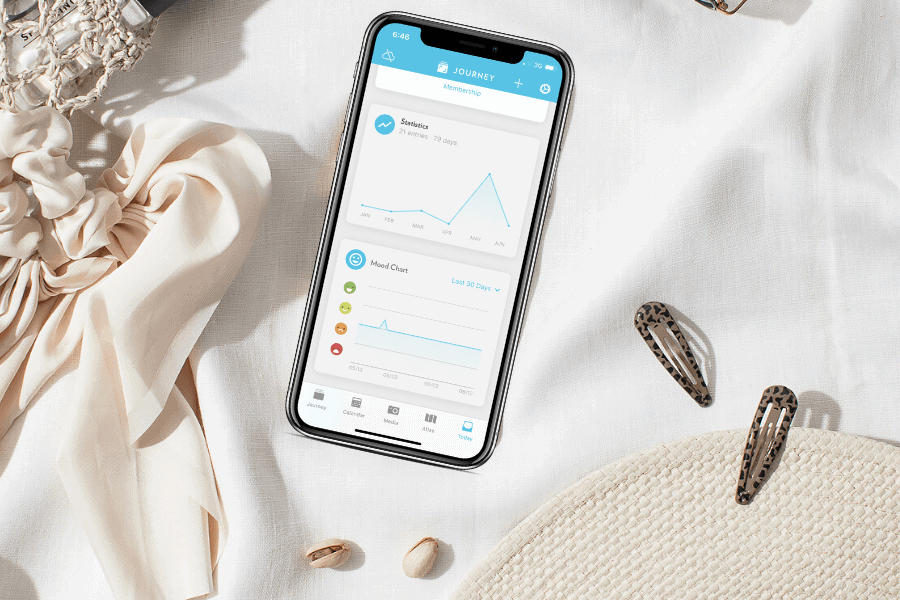 Get inspired when you see your activity data, which can encourage you to grow your writing habit.
Super cool!
---
Journaling Pro Tip:
Write all your daily activities from personal moments, meeting someone new, self-care, to develop a grateful habit.
How am I feeling right now? This gives you an opportunity to check in on yourself and set the emotions free.
What lessons did I learn? This gives you a sense of wisdom and the ability to let go of what's not working anymore.
What am I thankful for right now? This is one practical way so you can cultivate a sense of abundance and gratitude.
---
No. 2: Future-proof Digital Journal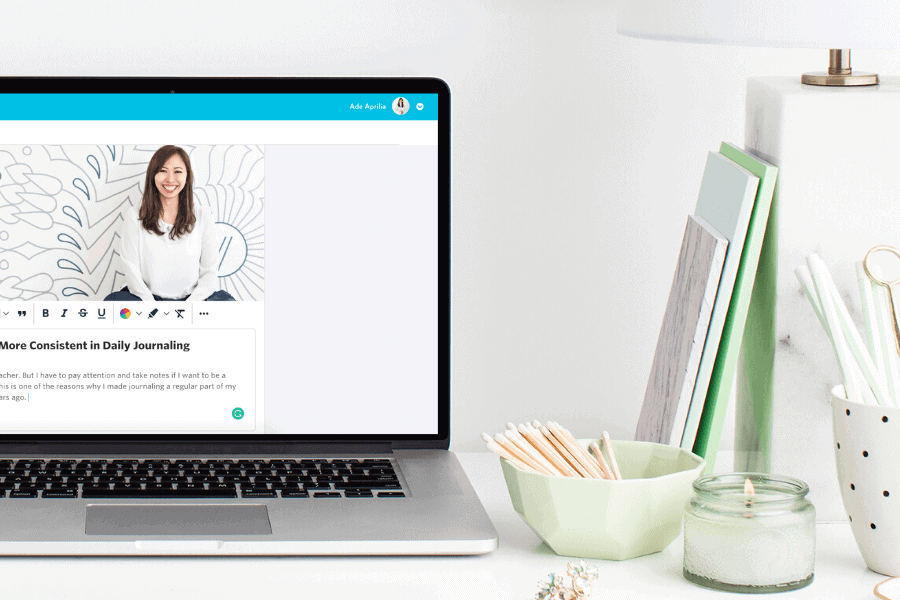 Journey gives me full control of my private diary by storing them in Google Drive sync. That's because this app is designed to keep the journal last forever.
How does that work?
After you installed the Journey app, you'll need to log in to your Google Account. Journey uses this account to sync your journals across any device you have installed the application on.
It makes life so much easier because I can access the journal everywhere, whenever I need to.
---
Journaling Ideas:
Challenge yourself to write inspired action towards your goals everyday to evoke a sense of responsibility, or take one photo per week, and add them to this app so you can reflect what's been happening in your life and gaining insight in the future, if necessary.
---
No. 3: Clean and Minimal Design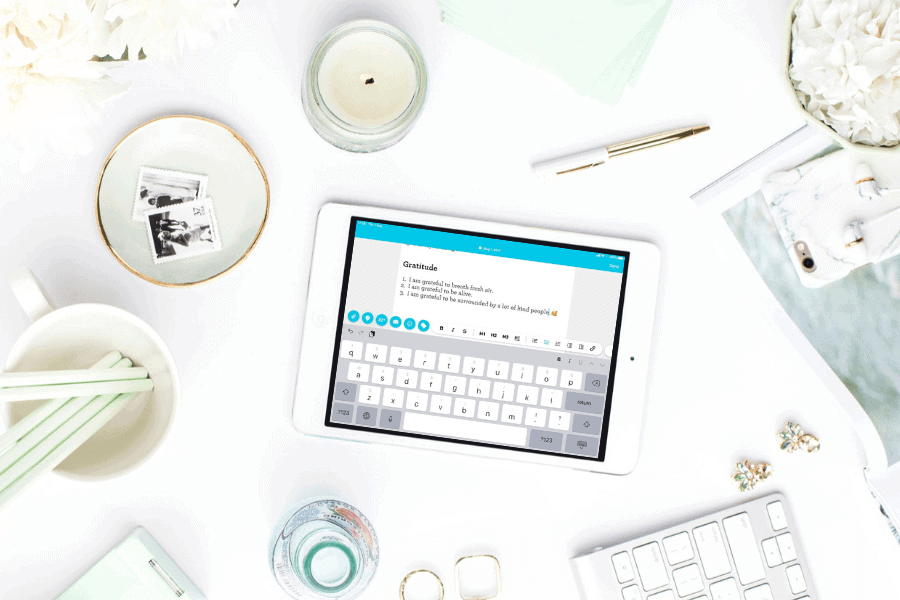 If you know me well, I'm a sucker for everything pretty and functional. I'm all about design and I find a lot of apps are so icky looking.
Journey App has a very sleek and simple interface, and to break the monotony, it has dark and light modes to change the overall look of the app.
Its crisp and clean layout makes crafting a journal entry pleasurable.
Journey App is changing the game for me. I can focus on writing because I don't have to worry about the layout. It's so easy to use and I am beside myself with excitement.
---
No. 4: It's Safe!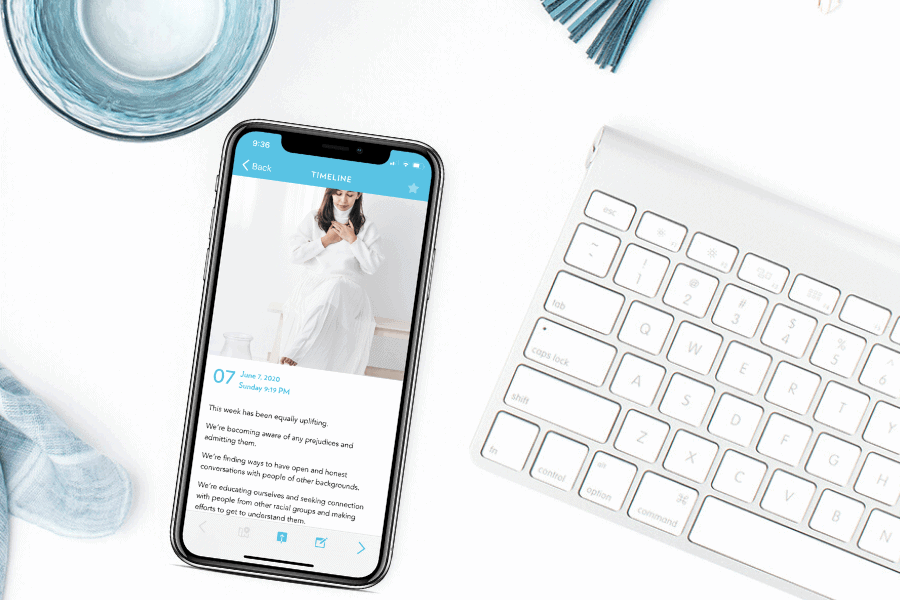 Your journal is a very personal and private thing and I understand if you want your thoughts to be secure and only available to you.
Fear not, my friend!
Journey ensures that your entries are private since they are stored in your Google Drive as in-app (hidden) data. That means that no one can access it except you — not even bots!
You can set a passcode to protect your journal to develops a sense of belonging.
After you're done writing, just click your gear icon and choose "Lock App" and you're all set. You will be required to input the passcode in order to access any writing.
But the cool thing is, Journey also empowers us to share moments with family and friends too as we can share our entries to social media!
---
No. 5: Intuitive and User-friendly Workspace
The biggest reason I heart Journey is that it gives me the ability to manage my whole journal entries all at once — I'm big on being able to see the 30k foot view of my thing. I like my documents in a way where I can retrieve them quickly. I do this so I can produce the highest quality work in the amount of time I have.
I love Journey because all my entries are listed on the timeline of the app while I can search and reopen any journal to edit or read. I like seeing things.
Journey App is also my tool of choice for housing my editorial calendar ideas because I can work on inside the platform.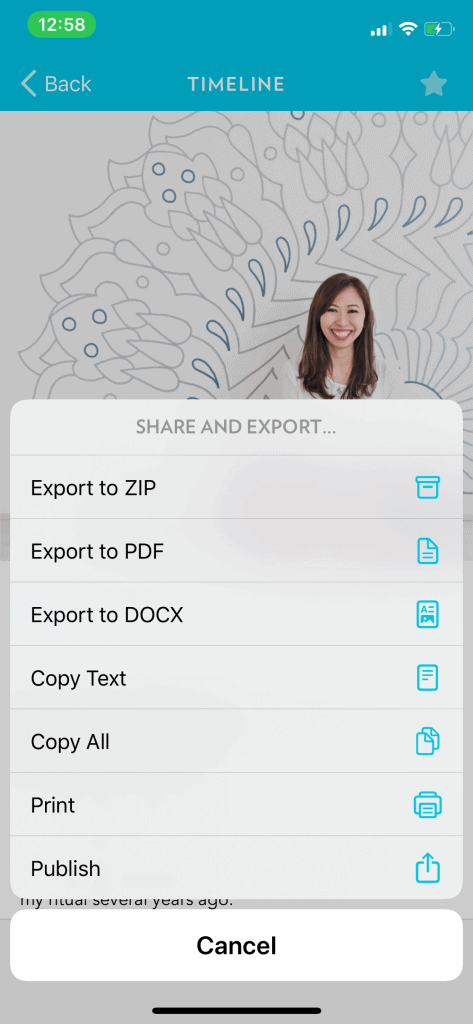 I can additionally export my journal to PDF, Word, and ZIP versions.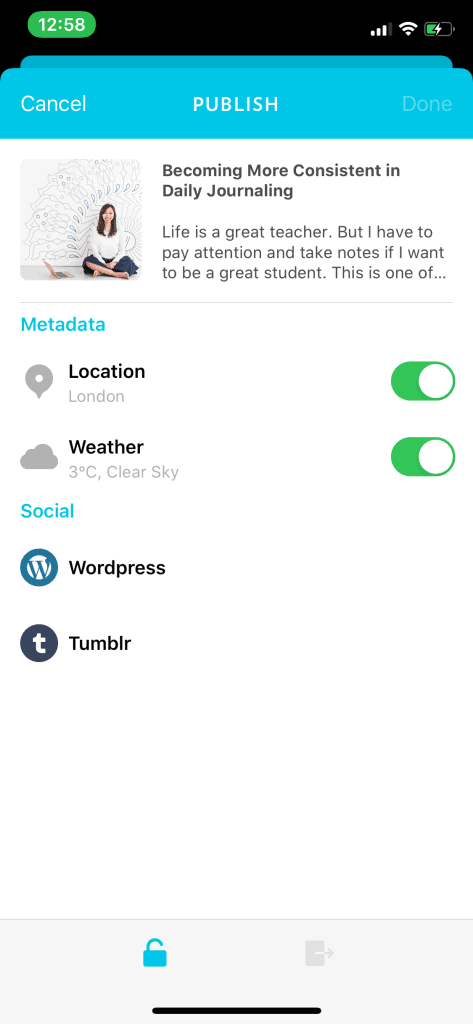 It's easy to share my entry to WordPress or Tumblr.
---
I'm able to load in and see my big hero piece of content each week.
And Journey also supports templates, which you can make and import yourself.
It's so easy to connect Journey with everything and requires absolutely zero coding experience — the only limit is your own imagination.
---
Tips: If you are a beginner and don't know how to maintain a journal, the app provides a step by step guide to writing one.
---
No. 6: Meet Your Coach On The App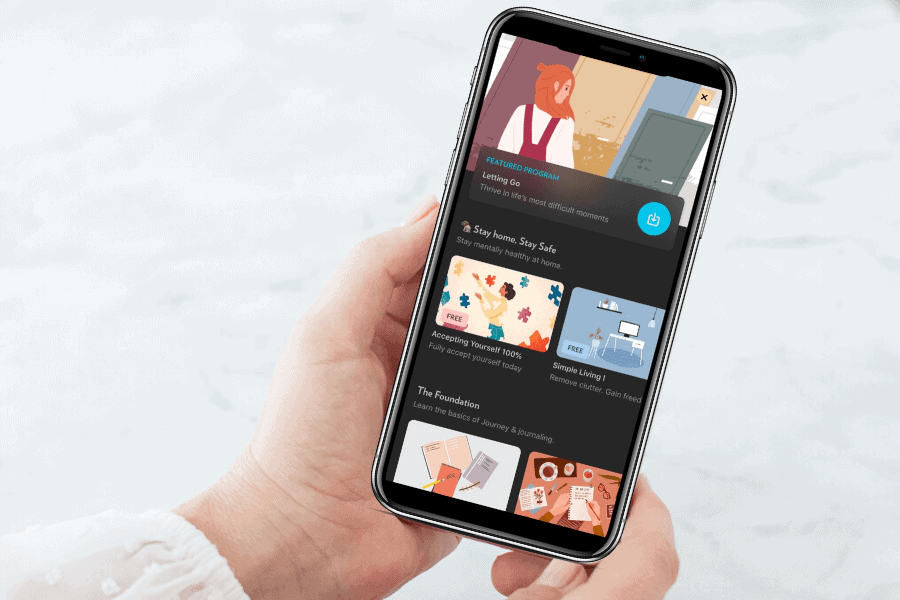 This is my favorite feature with Journey App. You can actually rejuvenate yourself with constant guidance and access to fresh written resources from Journey Coaches to promote a healthier mind, health, sleep, and so forth.
The coaches constantly motivate you with daily journal prompts from Gratitude to Love and Relationship to Self-Discovery. You can select a coaching program that you're interested in to guide you about how to write perfect journals. These programs make it easier for you to explore your potentials using these prompts every single day.
This is one of the best accountability tools to track your thoughts and let them go to be able to reach your unlimited potential.
Good News: My Coaching Program
I'm excited to also let you know that I have teamed up with Journey to create my own coach program. It's about Letting Go to Thrive In Life's Most Difficult Moments.
Why we create this program?
Because we tend to trust the lies our mind is telling us more than our own heart and intuitive knowingness. It tells us we're confined to our little box of limitation and we believe that. That leads us to struggling and suffering because when we believe those lies, the mind wins and takes over.
Letting go brings you inner peace. With the help of this new coach program, you can let go of the grip of sabotaging thoughts and emotional baggage. Our goal is you will find new and powerful ways to respond appropriately to what life throws at you, so you can create the life you have always dreamt about.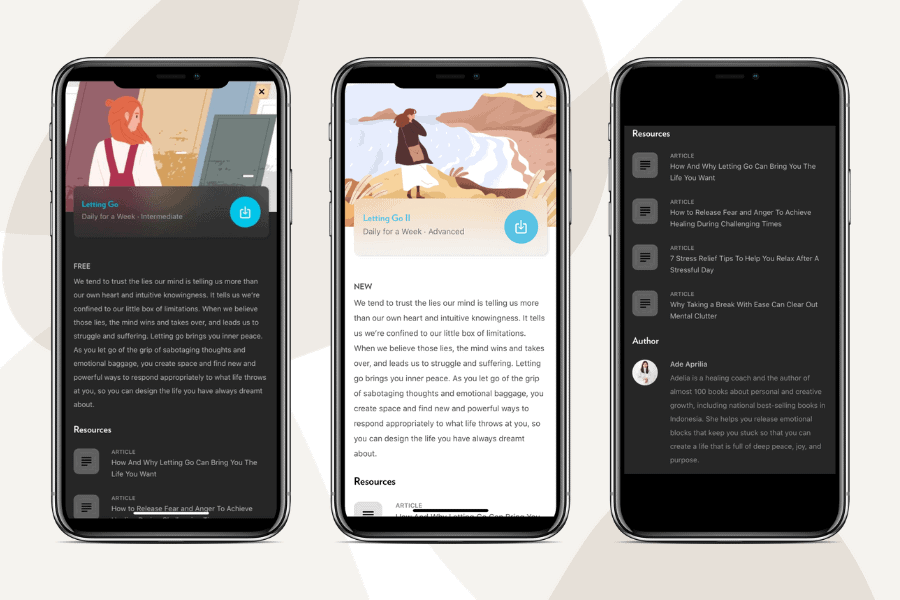 ---
Learning and incidents will never stop in life, and change is the only constant. With the Journey App, let's start on a path of self-improvement and reflection every day!
---
---
Is Journey App Worth It?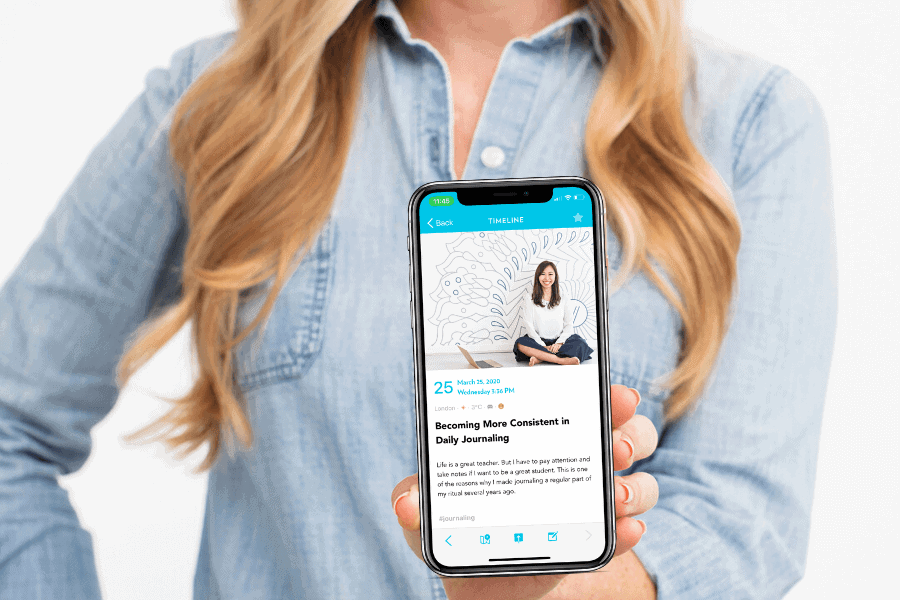 Well, simply put, people miss things—and you probably will too if you don't have a journal.
If you have the habit of journal writing and want to do it anywhere, having an efficient, solid journaling workflow in place with the help of an app can help you start to take a little bit of emotion and anxiety out of your life.
In my experience, Journey is a useful app that can help you write happily, especially because you can get inspired anywhere, anytime. It's a great choice for those looking to switch from a paper journal to a digital one, or who want to start a new writing habit with efficiency.
Journaling can help you to be able to let go of emotional turmoil, engage in real life, actually show up, and take inspired action to create the life you love. And it's just more fun to get on the app where you're not stressing out about life, and you can also use them to connect with the people that you care.
If you are looking for a journaling app that's easy and safe to use, Journey is a great option for you. Plus, the app is beautiful!
Download and install the Journey App from Google Play Store or Apple App Store, and you can get started right away.
---
---
Before you go, here's some pro tip for you.
Journaling Workflow Tips:
# Grow your journaling habit with Journey App and encourage yourself to write more.
# Be truthful to yourself by writing down about what's going on with ease because your journal is yours and yours alone. Go slow and let it flow. Bonus: keep your diary inside Journey App with passcode.
# Add date, photos, and videos so you can relive beautiful moments, revisit places, and travel back to the past to reflect what's been happening in your life and gaining insight. Journey has the ability to attach multiple images and videos to journal entries for your benefits.
And there you have it!
---
Now you.
Did you start each day by writing what you're grateful for?
Did you look back to see the wonderful things that make you feel alive?
Did you write a journal to evoke your self-awareness and allow yourself to understand things in a better way?
Did you jot down your thoughts and inner conflicts to heal?
Let me know your take about the Journey App in the comment below.
---
SAVE THIS PIN!
Did you find this post useful, inspiring? Save THIS PIN to your board on Pinterest!