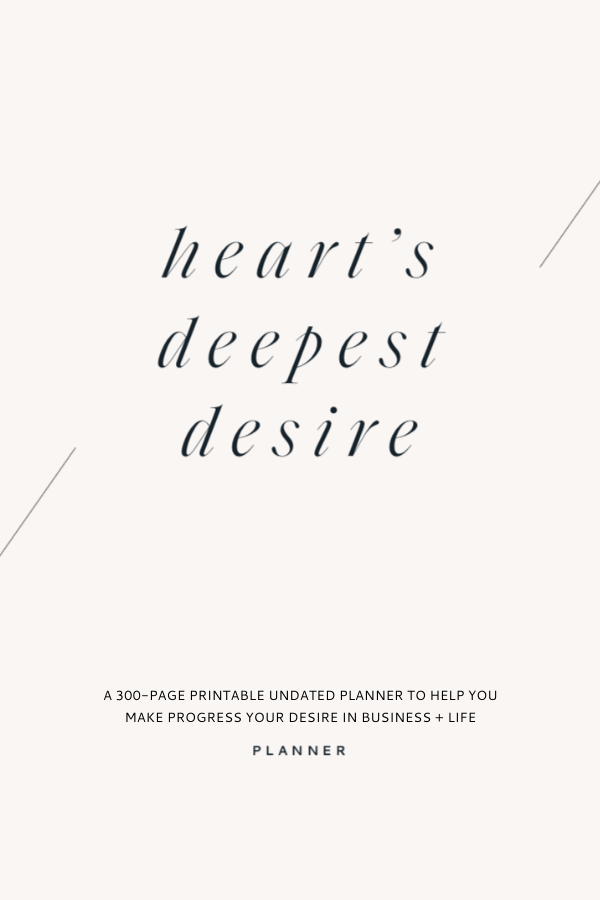 Do the words "goal setting" generate fear and resistance, making it harder to accomplish what you choose for the betterment of your life?
Yes, I feel you. Traditional goal setting doesn't work for me either. It brings heavy emotional baggage along with SHOULD, and HAVE TO and SET IN STONE.
This is why I find it empowering to think of goals as "heart's desire."
I shift my relationship to goal setting from my head to my heart. It allows me to look within my heart for what I desire, connect me to something far below the surface, and invite my head to design the actions to manifest my dreams.
---
---
---
This is an intentional goal planner for your life and business. And it's only $34 $27
---
---
---
This bundle includes over 250 pages in PDF for both every day life and business organization. It helps you get clear on what you truly want and let go of everything else. The planner and releasing exercises are designed to guide you through self-discovery, exploration, and fulfillment to have the life you love.
There are no longer dates on the planner. Now you can print it year after year and just simply fill in your own dates.
This planner is a DIGITAL PRODUCT so nothing will be shipped to you.
---
---
---
WHAT'S INSIDE THE HEART'S DEEPEST DESIRE PLANNER
Digital and Printable Planners that include:
Undated Planner
Goal Tracking
Task Planning
"The Desire of Your Heart" Exercise
Letting Go Worksheet
Gratitude Journal
Self Care Tracker
Meal Planning and Shopping List
Brain Dump Sheets (4 variations)
Monthly Expenses and Streams of Income
Daily To-Do's.
---
---
---
---
---
THIS PLANER IS PERFECT FOR YOU IF YOU WANT TO:
Wake up inspired and motivated for every day
Strengthen your focus on what truly matters to you
Clarify what your heart's desire, who you want to be, and how to get there
Develop positive habits to enrich your lifestyle
Have a system of accountability to keep on track with your goals
Take inspired action to get your goals
Live a balanced life
Create a life that you absolutely love
---
THIS PLANNER HELPS YOU:
Dissolving resistance to work on your goals so you can take the actions from a place of openness.
Doing things effortlessly.
Starting each day knowing exactly what you are going to accomplish and actually get it done.
Having the tools to measure your progress so you can know where to cut activities and what to invest more time in.
Tracking and analyzing your action so there's no guesswork involved.
Accelerating your progress in manifesting what you choose.
Gaining clarity about where your life will be in the next 60 days, 90 days, and beyond.
---
YOU'LL ALSO GET…
The editable version of the planner.
How to print the files.
ps. I've created an entire post just for you to show you every little detail of how I use each section. You are welcome to go here.
---
FAQ
What happens after I buy this?
You'll receive a link to download the files.
Will the strategies in this book work no matter what my situation is?
The strategies in this book will work no matter what your situation is. They all lead to the same result: liberating your natural ability to let go of any unwanted emotion on the spot, and allowing some of the suppressed energy in your subconscious to dissipate.
Is the planner for me?
THIS PLANER IS NOT FOR YOU IF YOU:
Aren't willing to put in the work to fill out the planner, review it weekly, and take inspired actions needed to achieve your goals
Don't take full responsibility for your life
Don't believe that things can change
Can I get a refund?
Due to the digital, downloadable nature of this product, we have a no-refund policy.
---
---
---